Clemson's Brad Brownell '91 Discusses Recruiting in Newspaper Article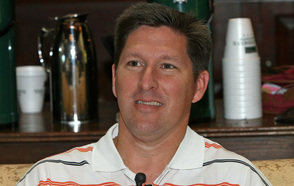 December 12, 2011
December 12, 2011, Greencastle, Ind. — Brad Brownell has served as a college head men's basketball coach in the North and South, and "says that when it comes to recruiting, it's a bit of a different game," writes Kerry Capps in South Carolina's Anderson Independent-Mail. "The difference, he says -- speaking in broad, general terms -- is that young players growing up in the Midwest tend to be basketball specialists, honing skills through countless hours of shooting and passing. Players in the Southeast, by contrast, are often relative latecomers to full-time basketball skill development, but are often more athletic, having come from football and multi-sport backgrounds."
Brownell, a 1991 graduate of DePauw University, where he majored in history, is in his second season at the helm of Clemson University's hoops program. He previously was head coach at Wright State and University of North Carolina - Wilmington.

The article states that Brownell "grew up in Evansville, IN as a self-described 'gym rat.' If the gym door was open, Brownell would find a ball and a game. Year round. He developed his skills as a shooter, defender, passer and ball handler, and went on to earn three letters as a player at Division III DePauw University in Greencastle."
Read more at the newspaper's website.
Another recent story on Brad Brownell can be found here.
Source: Anderson (SC) Independent-Mail
Back