Nobel Laureate Ferid Murad '58 & Jackson 5 Among 'Wall of Legends' Inductees
December 13, 2011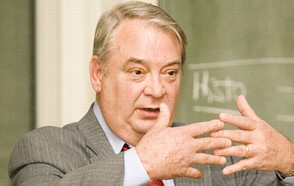 December 13, 2011, Greencastle, Ind. — "The Jackson 5 and Nobel laureates and Medal of Honor Recipients from Northwest Indiana will be inducted on the South Shore Wall of Legends this week," reports the Times of Northwest Indiana. The honorees include Ferid Murad, a 1958 graduate of DePauw University, who received the Nobel Prize in Medicine in 1998 for his research on nitric oxide, including identifying its role in nitroglycerin.
"The ceremony will take place at 5:30 p.m. Thursday at the South Shore Convention & Visitors Authority," the newspaper reports. Dr. Murad is a native of Whiting, Indiana.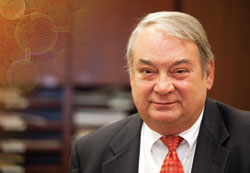 "We will be inducting people from Northwest Indiana who have changed the world, and reflect the values of exploration and courage, and/or creativity and innovation," says John Davies, coordinator of Wall of Legends Project.
Read more at the Times' website.
Dr. Murad, a university professor at George Washington University's School of Medicine and Health Sciences, received a B.A. degree in pre-medical science from DePauw, where he was Phi Beta Kappa and a Rector Scholar. He earned M.D. and Ph.D. degrees at what is now Case Western Reserve University.
The Nobel laureate presented the golden anniversary address to his Class of 1958 at DePauw's Alumni Celebration on June 14, 2008, in which he expressed his concern that the United States "may be starting to lose the race" in science and technology. A summary of his remarks and a link to an MP3 file of the complete speech can be found in this story.
On April 23, 1999, Ferid Murad delivered an Ubben Lecture at his alma mater. A summary and video clip are available here.
Murad was featured in the October 13, 2011, issue of Nature magazine.
Source: Times of Northwest Indiana
Back