Prof. Emeritus James Cooper Receives DAR's Historic Preservation Award
December 15, 2011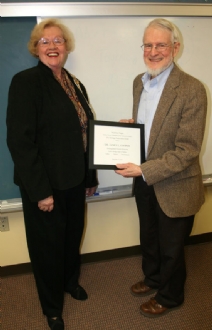 December 15, 2011, Greencastle, Ind. — James L. Cooper, professor emeritus of history at DePauw University, has been awarded the 2011 Heritage Preservation Award by the Washburn Chapter, National Society of Daughters of the American Revolution. Dr. Cooper "was recognized as a Distinguished Hoosier Historian for his work with the historic bridges of Putnam County and the state of Indiana," reports the Banner-Graphic. (photo: Jinsie Bingham, state public relations and media chairman for Indiana DAR, with Professor Cooper and his award)
"For many years a visionary has been hard at work along the byways and highways of Indiana, studying, documenting and urging the preservation of historic metal and concrete bridges," states Marsh Davis, president of Historic Landmarks of Indiana. "Dr. James L. Cooper has persisted in his message that old bridges are richly expressive of our cultural heritage and are resources worth preserving. Cooper sees these bridges as products of resilient human enterprise and ingenuity."
The article notes that Jim Cooper was honored in 2010 by the Indiana Historical Society with the Dorothy Riker Hoosier Historian award, received the Sandi Servass Memorial Award from Indiana Landmarks, and "was also recognized on that national level in Oklahoma City with an Award of Merit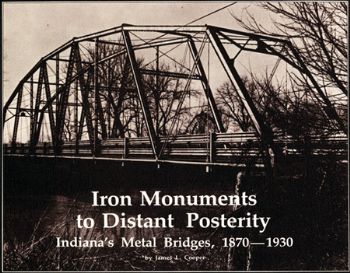 from the American Association for State and Local Leadership. He was recognized for a lifetime of researching, preserving and promoting the history of Indiana Historic Bridges." He also received a 2010 Award of Merit from the American Association for State and Local History (AASLH) Leadership in History Awards.
You'll find the complete story at the Banner-Graphic's website.
Cooper's books include Repairing and Restoring Historic Bridges: Keeping Faith With Their Makers; Restoring Historic Metal Truss Bridges; Artistry and Ingenuity in Artificial Stone: Indiana's Concrete Bridges 1900-1942; and Iron Monuments to Distant Posterity: Indiana's Metal Bridges 1870-1930.
Source: Greencastle Banner-Graphic
Back