Supercommittee's Effort "A Significant Failure of Political Leadership": Lee Hamilton '52
December 17, 2011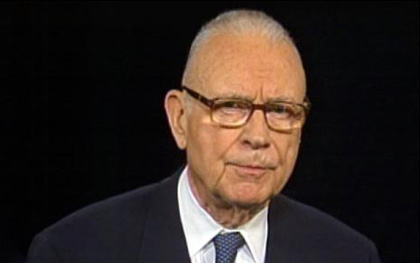 "The failure of the congressional Supercommittee to reach an agreement on reducing the deficit was not just bad fiscal news. It was a significant failure of political leadership," opines Lee H. Hamilton. The veteran statesman and 1952 graduate of DePauw University writes in a newspaper op-ed, "Not only did the committee move us one step closer to a genuine fiscal crisis, but also it put the dysfunction of Congress on full display."
Hamilton, who served 34 years in the U.S. House of Representatives, continues,"At a time of great economic stress, its members lost sight of what failure would cost the country in lost economic growth and foregone job creation. They did not fully appreciate that inaction ensures grave economic risks. Even worse, they sent a signal to the American people -- who overwhelmingly wanted to believe that common ground is still possible in a divided age -- that partisan politics is stronger than the national interest. Failure robbed Americans of hope at a time when they desperately needed some."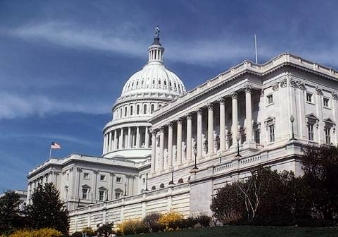 The group's failure to find agreement "makes clear that it will take a supreme effort of political will to move the nation past this point," writes Hamilton. "Though even in failure, the committee could have done much more to educate the American public on the hard choices necessary to get our fiscal house in order."
The Democrat who co-chaired the Iraq Study Group and 9/11 Commission states, "Meaningful progress on our fiscal problems will require skilled politicians at the highest level to roll up their sleeves and take a risk with their own political bases. It has been done before, when politicians like former Republican Sen. Bob Dole and former Democratic Sen. Daniel Patrick Moynihan stepped up and made hard decisions. They were able, when the occasion demanded, to use their public stature and their political gifts to command attention and sway public opinion."
Hamilton notes, "The issues that broke the committee's back have not gone away. Congress has no choice but to press on. Surely the President and members of Congress must now grasp the magnitude of our fiscal problem and the necessity of shared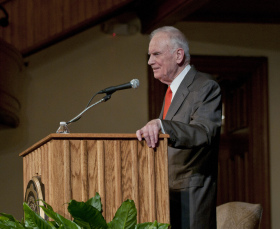 sacrifice to resolve it." He concludes, "Sometimes in politics, you have to fail before you can succeed. Even in failure, the Supercommittee provided some valuable lessons. Our hope must be that our political leaders can discern them, and that this failure will pave the way for progress."
You'll find the entire essay at the website of Greencastle's Banner-Graphic.
A history major and basketball standout at DePauw, Lee Hamilton is director of the Center on Congress at Indiana University. On March 15, he returned to DePauw to deliver a Timothy and Sharon Ubben Lecture. A summary including video clips can be accessed here.
Source: Greencastle Banner-Graphic
Back