Lee Hamilton '52 Hopes New Year Brings Civility
December 26, 2011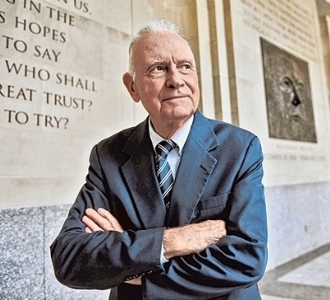 "This is a season of giving, good cheer, and forbearance," writes Lee Hamilton in a newspaper op-ed. The former congressman and 1952 graduate of DePauw University believes that "as we jot down our New Year's resolutions, we could add this one: 'Every action done in company, ought to be with some sign of respect to those that are present.' And then let's hope that our political leaders add it to their lists, too."
One of George Washington's "Rules of Civility & Decent Behavior," it was penned when Washington was a 16-year-old and "ought to make any number of our current elected officials pause and reflect," Hamilton declares. "For too often in recent decades our politics have been strident, polarized, coarse, even mean. We do not show respect to those present. We do not even show respect to those who are not present but, by virtue of televisions, newspapers and the Web, are just as tuned in as those who are there. And because we do not, we are all the poorer."
A veteran of 34 years in the U.S. House of Representatives, Hamilton, a Democrat, states, "Incivility directly affects both the quality and the quantity of the hard work of governance. Along with the outright rudeness that often marks our public discourse, it makes it virtually impossible to reconcile opposing views and, therefore, to meet our civic challenges. Anyone can walk into a room where there are differences of opinion and blow it apart. What is hard to do is to walk into the room and bring people together. That is political skill of the highest order."
He adds, "In a democracy, it is not enough just to let politicians set the rules of engagement. As citizens, we need to know how to cultivate our own skills: to stay informed, volunteer, speak out, ask questions, make discriminating judgments about politicians and policies, and improve our neighborhoods and communities ...
It is the actions of many ordinary people rolling up their sleeves and digging into the issues they confront in their neighborhoods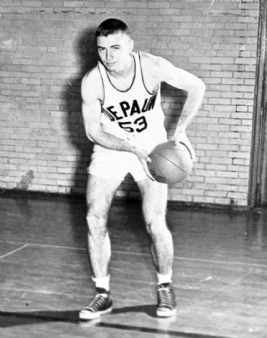 and communities that keep this great democratic experiment of ours vital. This is because every one of us who hones the civic skills needed to renew our politics makes it that much more likely that our nation will thrive. That's not a bad goal, as we finish out one year and turn toward the future."
Read the complete essay at the website of the Times-Standard of Eureka, California.
A history major and basketball standout at DePauw, Lee H. Hamilton is director of the Center on Congress at Indiana University. He also co-chaired the 9/11 Commission and Iraq Study Group.
On March 15, he returned to DePauw to deliver a Timothy and Sharon Ubben Lecture. A summary including video clips can be accessed here.
Access another recent column by Hamilton here.
Source: Eureka (Cal.) Times-Standard
Back