DePauw Students Invited to Participate in Kennedy Center American College Theater Regional Festival
December 30, 2011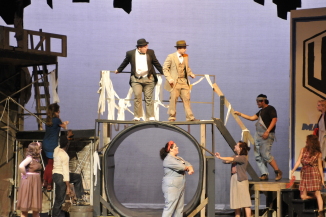 The cast of DePauw Theatre's recent production of Urinetown (which was staged October 6-9) has been invited to perform a scene from the musical at the 2012 Kennedy Center American College Theater Region III Festival. The event, which will take place January 3 through 7 at the University of Illinois, Urbana-Champaign, includes colleges and universities from Indiana, Michigan, Illinois and Wisconsin.
Additionally, several DePauw students have been invited to participate in other facets of the festival. Senior Case Nafziger will compete in the Irene Ryan Acting Competition, along with his acting partner, junior Claire Wilkinson. An original play by DePauw senior J.C. Pankratz was also selected for inclusion at the festival.
>Started in 1969 by Roger L. Stevens, the Kennedy Center's founding chairman, the Kennedy Center American College Theater Festival (KCACTF) is a national theater program involving 18,000 students from colleges and universities nationwide which has served as a catalyst in improving the quality of college theater in the United States. The KCACTF has grown into a network of more than 600 academic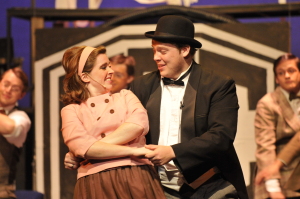 institutions throughout the country, where theater departments and student artists showcase their work and receive outside assessment by KCACTF respondents. Through state, regional, and national festivals, KCACTF participants celebrate the creative process, see one another's work, and share experiences and insights within the community of theater artists.
Learn more here.
Also available are a feature article on DePauw Theatre's production of Urinetown and a photo gallery.
Back