DePauw Captures Tampa Bay Shootout Title; Haseley Named Tourney MVP
December 30, 2011
TOURNAMENT SITE | Maryville/SUNYIT Box | DePauw/FDU-Florham Box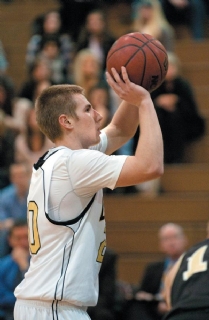 Tampa, Fla. - DePauw led by as many as 12 in the first half, but had to hold off FDU-Florham in the closing minutes to claim a 69-65 victory over the Devils in the Tampa Bay Shootout championship game. The Tigers improved to 7-4, while FDU-Florham dropped to 4-6.
DePauw used a 9-2 run late in the first half to take as much as a 12-point lead and still led, 35-24, at halftime. The Devils, however, scored the first eight points of the second half to trim the Tigers lead to 35-32.
The Tigers stretched the margin back to nine on a couple of occasions, but FDU-Florham used a 16-3 stretch to take a 54-50 lead with 7:04 remaining. DePauw's Michael Wilkison hit three three-pointers in a two-minute stretch with the final two coming on consecutive possessions and giving the Tigers a 61-57 advantage with 4:16 left.
FDU-Florham's Trevor Sykes made a free throw before the Tigers' Michael Sullivan made a couple of buckets to push DePauw's lead to 65-58 with two minutes remaining. The Devils got no closer than three the rest of the way.
Shootout MVP Sean Haseley (pictured) led the Tigers with 14 points, while Wilkison added 13. Sullivan joined Haseley on the all-tournament team and followed with 11 points with Barry Flynn posting a double-double of 10 points and 11 rebounds along with team highs of four assists and three blocks.
Adam Katz led the Devils with 14 points while all-tourney choice Will Green followed with 11 point and a game-high 14 rebounds. Sykes and Derek Hall each scored 10 with Hall dishing out four assists and hauling down 10 boards.
DePauw shot 50 percent from the floor and hit 8-of-18 from three-point range, while FDU-Florham shot 35.7 percent and held a 41-30 rebounding edge.
In the third-place game, Maryville (Tenn.) defeated SUNYIT, 77-57, as all-tournament team selection Milton Stanley led the Scots with 30 points and six assists. Derek Rowe, the final all-tournament team member, paced SUNYIT with 14 points and 15 rebounds.

DePauw returns to action on Friday, January 6, when it travels to Allegheny for an 8 p.m. North Coast Athletic Conference game.

Back