Barron's Puts Tim Solso '69 in its 'CEO Spotlight'
January 1, 2012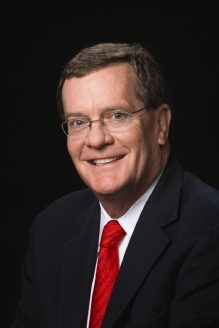 "Anyone who thinks American manufacturing is dead hasn't been to Indiana, where 92-year-old Cummins is leading an industrial revival, hiring American workers and introducing innovation after heavy-metal innovation," begins an article in Barron's, which puts Tim Solso in its "CEO Spotlight". Lawrence C. Strauss writes, "Anyone who thinks American corporations are heartless, soulless and Neanderthal in outlook and practice also hasn't been to the Hoosier state, where Columbus, Ind.-based Cummins was hiring and promoting African-Americans and women long before many companies even thought to notice their absence. Then again, corporate responsibility is a big thing at Cummins, as is community pride, which is saying a lot for a $17 billion company that employs 44,000 people world-wide."
Solso's retirement as chairman and CEO of Cummins became official yesterday. He "leaves behind the dominant global maker of heavy-duty diesel engines and power-generation systems, whose revenue is expected to reach $17.8 billion in 2011, with earnings of $1.7 billion, or $8.69 a share. He also leaves a blueprint for growth that could drive earnings significantly higher in the years to come, creating thousands of new jobs in the U.S. and abroad."

The lengthy article notes, "Solso took an unusual route to the top. He majored in psychology, not engineering, and joined Cummins as an assistant to the vice president of personnel ... Solso, who works with his sleeves rolled up in a modest office, talks easily about what he has learned both throughout his career and in preparation for it. He was drawn to the study of psychology as an undergraduate at DePauw University in Indiana because 'it's the study of human behavior, and it is the people and how they interact with each other that makes a company successful or not.' Working on case studies at Harvard, he learned 'there is never perfect information and there is never enough information. So sooner or later you have to learn when to make a decision.' "
You'll find the piece -- headlined "Revving Up the Rust Belt"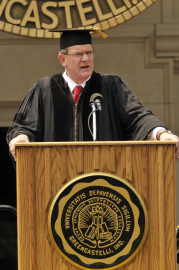 -- at the magazine's website (a subscription is required to read the complete story).
On May 22, Tim Solso delivered the principal address to DePauw's Class of 2011 and received an honorary doctoral degree at the University's 172nd annual commencement. A summary of his address, "What Will Be My Contribution?," including links to video and audio clips, can be found here.
Solso is also the U.S. chairman of the U.S. – Brazil CEO Forum and serves on the board of the Initiative for Global Development. Along with Bill Gates and other leading U.S. business executives, Solso is a member the American Energy Innovation Council. He is a past member of DePauw's Board of Trustees.
Source: Barron's
Back