Jeremy Stierwalt '98 Hopes Super Bowl Rental Will Help Charity
December 31, 2011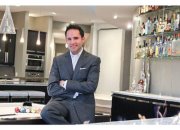 "The NFL has locked up most of the hotel rooms in downtown Indianapolis, so Hoosiers are trying to rent their homes out for extra money," reports Indianapolis' Fox 59. "Jeremy Stierwalt owns a million dollar home on Mass Ave. and College. He gave it a lot of thought and figured, why not?"
Stierwalt, a 1998 graduate of DePauw University, tells the station, "If the Colts were in the Super Bowl, I'm interested. But I don't care that much about the Super Bowl."
Anne Yeager reports that Stierwalt, who majored in computer science at DePauw,

"isn't about making money renting out his home. He plans to donate the money to the Alzheimer's Association because that is what matters to him."

"My grandmother passed away and I had a friend whose grandfather had it," Stierwalt says.
Access video of the segment at WXIN's website.
Source: WXIN/Fox 59 (Indianapolis)
Back