Legendary Coach and Athletic Director Tommy Mont Dies at 89
January 2, 2012
Thomas A. "Tommy" Mont Jr., who served as DePauw University's head football coach from 1959 through 1976 and as athletic director from 1972 until his retirement in 1987, died Sunday, January 1, of heart failure in Arizona. He was 89 years old.
Born in Mount Savage, Maryland, on June 20, 1922, Tom Mont was a star quarterback at the University of Maryland. He was the nation's #3 passer in 1942 and was an honorable mention All-American that season. Mont was also a member of Maryland's lacrosse team.
As World War II raged, Mont left college to join the United States Army as an infantry line officer in the European Theater and coached the 3rd Infantry Division football team which won the 7th Army championship in 1945. After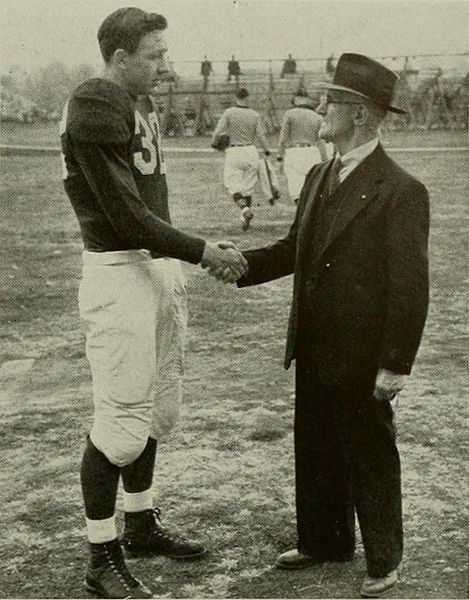 returning to the United States, he coached the basketball and football teams at Fort Benning, Georgia.
After his military service, Mont returned to Maryland and played football for another season and graduated in 1947. (at left: Mont in 1942)
He went on to play professionally for the NFL's Washington Redskins, playing three seasons and backing up legendary quarterback Sammy Baugh. Mont recalled his first professional game, before 96,000 fans at the Los Angeles Coliseum. "I had missed training camp with the Redskins so I wasn't expected to get into the game," he said in a 2007 speech. "They had me listed as the No. 2 punter. Well, the No. 1 punter gets hurt, and I have to go into the game. This was in the day when helmets didn't have face masks. I was so nervous I put my helmet on backward. When I got on the field, the referee asked me if I was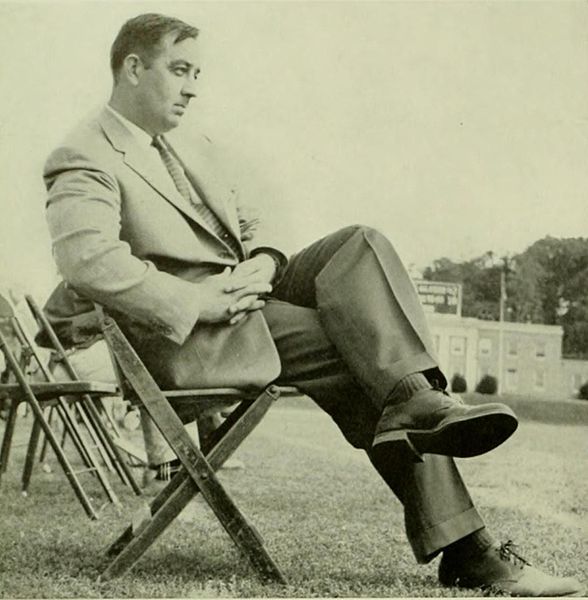 coming or going." (at right: Mont on the sidelines as Maryland's head football coach)
In 1949, Mont served as an assistant football coach at the University of Chattanooga, where he helped install a T-formation offense. He returned to the Redskins in 1950 as an assistant coach, then was called upon the following season to return to the University of Maryland, where he was backfield coach through 1955. He also worked with the U.S. Marine Corps' Parris Island football team, the National Polytechnic Institute's squad in Mexico City, and the Calgary Stampeders of the Canadian Football League.
In 1956, Mont was named Maryland's head coach, succeeding Jim Tatum. He amassed an 11-18-1 record in three seasons, resigning in 1958. It was at that point that he moved to Greencastle to take over DePauw's football program. His appointment was announced on April 29, 1959.
Tom Mont's overall record leading the black and gold was 67-94-4, but his teams were often pitted against larger schools in non-conference competition. Mont's Tigers were a thorn in the side of Wabash College, logging a 12-5-1 record in the battles for the Monon Bell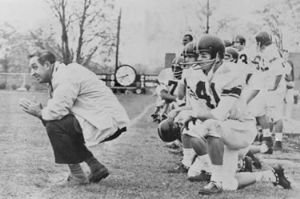 which he coached. His teams won five straight contests (1960-64) over Wabash.
The coach was widely known for his wisecracking wit and unconventional outlook. Late in the 1960 Monon Bell game, DePauw scored a touchdown to make it a 13-12 Wabash lead. Mont faced a tough call -- kick the extra point and tie the score, or go for the two-point conversion and the win? Mont looked to assistant coach Ted Katula in the Blackstock Stadium press box for help. Still pondering, Mont took a broader poll. "I turned around and asked the crowd what to do," he recalled. "They said, 'Go for it!' So we made up our mind to go for it." DePauw lined up in extra point formation but ran an option that got the Tigers into the end zone and made them winners in the annual rivalry game. Mont was carried off the field by his jubilant players, a scene repeated in 1962 (photo at right).
In late 1971, Mont was given the additional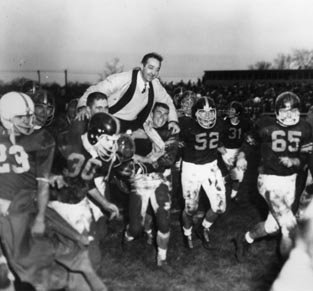 duties of director of athletics and head of the department of health, physical education and recreation. He retired from coaching in 1977 to devote full time to his administrative duties.
"Coach Mont was a great leader who taught me a tremendous amount about how to work with people," says DePauw's current athletic director, Page Cotton. "He was a friend to many and will be greatly missed, but always remembered with a smile."
"I will always be indebted to Tom Mont for hiring me as the head football coach at DePauw in 1981," adds Nick Mourouzis, who retired in 2003 as the University's all-time leader in football victories. "Coach Mont was a very professional man, a first class person, and I greatly respected him."
Coach Mont, who authored articles for Athletic Journal and Scholastic Coach magazines, was elected the national chairman of the NCAA Division III Football Committee in 1986. He is a member of the DePauw Athletic Hall of Fame, as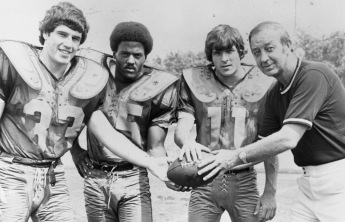 well as the University of Maryland and state of Maryland athletic halls of fame and the Indiana Football Hall of Fame. In 1983, DePauw alumni named Mont an "Alumni Faculty Fellow" in recognition of his promotional work with the University's graduates across the nation.
Mont was a popular after-dinner speaker and continued to entertain audiences with his deadpan jokes and stories well into his 80s. You can see the coach serve up jokes in this 1987 television appearance. A Phoenix newspaper covered a 2007 speech by Mont. He was also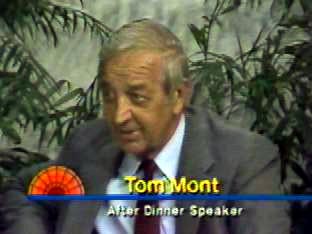 featured on NBC's Today in 1986.
In 1987, he was the primary speaker for the Touchdown Club of Washington, D.C., with the 2,000 attendees including U.S. Supreme Court Justice Antonin Scalia and NFL great Walter Payton.
Tommy Mont figures prominently in several of the "Monon Memories" from his era. You'll find a roster of the video clips by clicking here.
Other YouTube videos: 1960, 1961, 1962, 1971, 1972, 1985, Ted Katula Reflects, Ed Meyer '62 Recalls Coach Mont.
Back