175th Anniversary Celebration Begins January 10 -- You're Invited!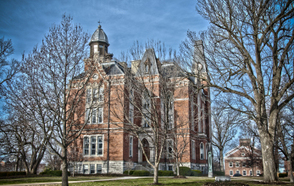 January 3, 2012
One week from today, on January 10, 2012, DePauw University will mark a milestone, and you're invited to attend what will be the beginning of an 18-month-long celebration. On Tuesday, January 10, a brief ceremony will be held to honor the 175th anniversary of the approval of the University's charter by the Indiana General Assembly on January 10, 1837. The program will take place in the Great Hall of the Judson and Joyce Green Center for the Performing Arts at 5 p.m., with a reception that will continue until 6:30.
The program will include remarks by DePauw President Brian W. Casey, a proclamation read by Greencastle Mayor Susan V. Murray, an invocation by Bishop Michael Coyner of the Indiana United Methodist Church, and a performance by DePauw School of Music vocalists.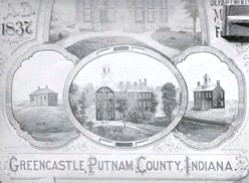 All are invited to attend.
Created as Indiana Asbury and named in honor of Bishop Francis Asbury (1745-1816), the first American bishop of the Episcopal Methodist Church, the "Seminary of learning" was to be founded "for the benefit of the youth of every class of citizens, and of every denomination, who shall be freely admitted to equal advantages and privileges of education," according to the charter approved by the Indiana General Assembly. The document also refers to "an extensive University or College Institution... to be conducted on most liberal principles, accessible to all religious denominations and designed for the benefits of the citizens in general."
The Charter Day program will launch a dodracentennial celebration which will continue for eighteen months, through June 2013's Alumni Reunion Weekend.
Planned commemorative events and programs include distinguished alumni lectures and regional alumni events, special musical and theatre performances, historical exhibits, a student-planned festival, and academic departmental events.
For more on the 175th anniversary celebration, and to keep abreast of upcoming events, click here.
Back