DePauw's Posse Participation Noted in Chinese Language Newspaper
January 8, 2012
"Founded in 1989, The Posse Foundation finds youth that are 'overlooked by traditional college selection processes,' and gives them the funds for a four-year degree," reports the Epoch Times. The New York City-based Chinese language newspaper adds, "It also groups students into multicultural, supportive teams -- or 'posses.' On Thursday 140 posse scholars received their awards. They were selected from more than 3,000 students in over 300 New York City schools and 100 organizations." (at right: DePauw Posse 15 from New York)
The article points out, "Posse awarded $80 million nationally to 560 students. Participating schools include Babson College, Brandeis University, Colby College, DePauw University, Dickinson College,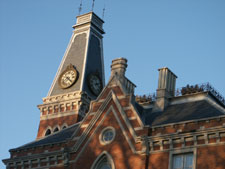 Franklin & Marshall College, Lafayette College, Lawrence University, Middlebury College, Trinity College, University of Wisconsin-Madison, University of Southern California, Vanderbilt University, and Wheaton College."
Access the complete text here.
DePauw hosts two Posses each year -- one from New York City and the other from Chicago -- and has been a Posse partner since 1996. Learn more in this previous story.
Source: Epoch Times
Back