DePauw Tops Allegheny for Third Straight Win
January 6, 2012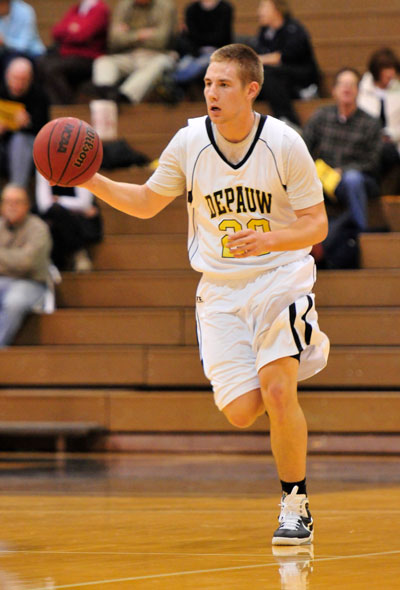 Meadville, Pa. - Kevin Sullivan snagged an offensive rebound, hit two free throws and recorded a steal in a 44-second span in the closing minutes to help DePauw to a 60-56 North Coast Athletic Conference win at Allegheny. The Tigers improved to 8-4 overall and 2-1 n the NCAC with their third straight win, while the Gators dropped to 2-10 overall and 0-3 in the conference.
DePauw gained its first lead of the second half at 50-49 on Barry Flynn's layup with 5:01 left before Sean Haseley extended it to three on a bucket with 4:02 remaining. The Tigers still held a three-point advantage at 56-53 after Michael Wilkison's bucket with 2:05 left.
Devone McLeod's three-point play with 1:47 remaining knotted the score at 56-56. The Tigers were unable to convert on their next offensive possession, but Sullivan grabbed an offensive rebound and then hit two free throws with 1:01 remaining to give DePauw a 58-56 lead.
Sullivan then forced an Allegheny turnover with 46 seconds left, but Connor Rich's three-point attempt with the shot clock running down was off the mark. The Gators turned the ball over with two seconds left and Flynn made a couple of free throws with one second remaining to secure the win.
Flynn paced DePauw with 16 points, six rebounds and four steals, while Haseley (right) added 15 points and four assists.
James Ness led Allegheny with 14 points and 12 rebounds with McLeod adding 13 points and four assists.
DePauw shot 41.4 percent from the floor including 50 percent in the second half. Allegheny shot 51.1 percent for the game, but committed 17 turnovers to DePauw's eight.
The Tigers travel to Hiram tomorrow for a 4 p.m. game.
Back