School of Music's "Free Gift to Indiana Schools" is Well Received
January 10, 2012
"A free gift to Indiana schools" from the DePauw University School of Music -- a special recording of The Star-Spangled Banner -- has been greeted with an overwhelming response, according to Mark McCoy, dean of the School of Music.
At the beginning of the Fall 2011 semester, high schools throughout Indiana received a recording of the national anthem featuring the DePauw University Orchestra. This recording, designed to be used by schools for athletic events where student musicians were not available to sing or perform the song live, has generated an outpouring of positive responses, among them: "Thank you for the amazing and much needed CD," "This was a simple, yet incredibly thoughtful and needed gift. We will use it with pride,"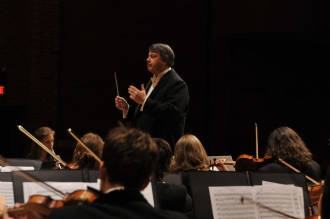 and "It sounds great! We will definitely make use of it."
"As we move into winter, late season football games and some schools' basketball programs are the only events in which the national anthem is performed live," explains Mark McCoy, Dean of the School of Music. "Volleyball, soccer, and spring season sports are left deciding what they might do, if they want to include the national anthem. We have made this special recording a free gift to Indiana schools."
The DePauw Orchestra's recording presents The Star-Spangled Banner in a lower key to help young singers that would like to sing either as soloists or as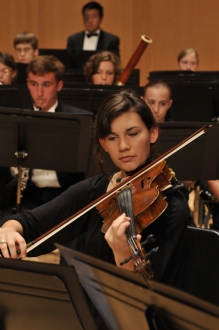 choirs. In this recording, the first note of the national anthem is played before the performance begins, so that the singers and the audience -- which is always encouraged to sing along -- know the pitch on which to start. Additionally, the recording is engineered to take into consideration the acoustics of the different venues in which the recording could be played.
"The DePauw School of Music wants to be in and of service to the community," says Dr. McCoy. "We are fortunate to have a fine orchestra and a conductor that understands the needs of the public schools. We hope this CD proves useful for years to come."
Founded in 1884, the DePauw University School of Music is one of the nation's oldest private institutions for post-secondary music instruction and the longest-running in Indiana. Learn more here.
Back