President Casey Discusses DePauw's 175th Anniversary with Statewide Radio Network
January 10, 2012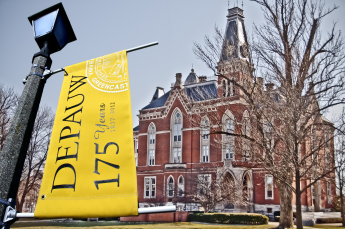 Today's kick-off of an 18-month-long celebration of DePauw University's 175th anniversary and the events to follow will "highlight what the institution has accomplished," President Brian W. Casey told Network Indiana's Steve Simpson in an interview this morning. "It's a small place," Dr. Casey said of the 2,400-student campus, "but somehow, as of just a few years ago ... five of the CEOS of the thirty top corporations in America were DePauw grads, and we've had 48 congressmen."
Faculty-student interactions have been a hallmark of the DePauw experience from the beginning, Casey told the network which feeds about 60 radio stations across the state. "Students are having lunch with or having dinner over at professsors' houses. They get to know these people, and I think it just lends a warmth and a charm to your education, and I think it changes people because you're working closely with some pretty smart folks."
Hear the entire five minute segment by clicking the link below:
At 5 p.m., today a brief program will take place in the Great Hall of the Judson and Joyce Green Center for the Performing Arts (605 S.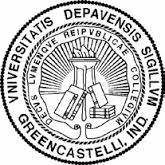 College Avenue) to mark the 175th anniversary of the approval of the University's charter on January 10, 1837, with a reception that will continue until 6:30. The festivities will include remarks by DePauw President Brian W. Casey, a proclamation read by Greencastle Mayor Susan V. Murray, an invocation by Bishop Michael Coyner of the Indiana United Methodist Church, and a performance by DePauw School of Music vocalists.
Learn more in this previous story and you're invited to visit the 175th anniversary web page.
Source: Network Indiana
Back