DePauw Students Become Teachers for Youth Science Club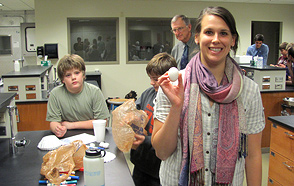 January 16, 2012
Under normal circumstances, the scene that unfolded in the Julian Science & Mathematics Center one day in late November would have been an unmitigated disaster. A large group of middle school students had taken the high ground on a third-floor balcony, and, one by one, they were dropping eggs to the ground below.
But these were not normal circumstances. It was science – Science Club, to be exact – and a few broken eggs weren't going to get in the way of it. Most of the atrium floor isn't carpeted, anyway.
Once a month, the group of about 30 students from Greencastle Middle School comes to DePauw in pursuit of science. This time, members of DePauw's Science Research Fellows (SRF) program had prepared what is known in introductory physics parlance as an egg drop. Offering coffee filters, plastic grocery bags, balloons, cotton balls, bubble wrap, newspapers and tape, they tasked the visitors with protecting an egg during an otherwise disastrous fall. Some created makeshift parachutes, while others wrapped their eggs to cushion them during impact. One simple, but clever model had balloons on either side of the egg to prevent it from ever touching the floor.
Then came the drop. Although the program was created for children, you didn't have to be a kid to enjoy watching them test their hypotheses.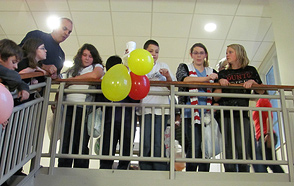 "We don't play football, so this is what we do," says David L. Roberts (left), a part-time assistant professor of chemistry and biochemistry who created and coordinates Science Club. "This is our stadium."
Besides dropping eggs with SRF, Science Club members have cloned E. coli bacteria and made it glow in the dark with Assistant Professor of Biology Pascal J. E. LaFontant, and learned about the elements with Theodore Gray, co-founder of Wolfram Research, Inc. and creator of The Elements, a popular visual periodic table. It's always something new and exciting – and never a cheap show.
"We're not doing 'kitchen chemistry' experiments," Roberts says. "We do a lot of college-type of labs that are simplified versions of what our own students take. It can be an intense experience, but we have close supervision so they can't hurt themselves."
DePauw's science outreach efforts span most of the K-12 spectrum. Roberts himself teaches a high school chemistry class on campus, and this January he's running a Science Bowl for elementary school students. Science Club hits a sweet spot in the middle. The middle schoolers are old enough to appreciate the science behind what they're doing, and young enough to still be wowed by it, making it easy for Roberts to recruit help each month.
"I do it because it is a lot of fun," Courtney E. Brimmer '12 says. A student in Roberts' Teaching of Chemistry class, Brimmer is also a science education assistant at a local elementary school. "It's an opportunity to teach kids about something that I enjoy in a creative way. And all the kids are excited to learn new things."
Like Brimmer, students in Roberts' class take part in other outreach programs in addition to Science Club. By prioritizing community involvement and a commitment to increasing science literacy, Roberts hopes he's not only training better people, but also better scientists.
"Teaching really is the best way to learn," Roberts says. "I don't think you really know you've learned something until you try to teach somebody else what it means."
Back