DePauw Theatre Presents Mysteries ... and Smaller Pieces Feb. 2 - 5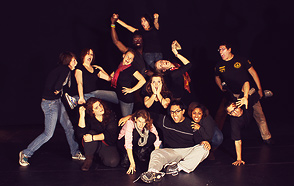 January 17, 2012
Students in Professor Tim Good's Winter Term class are spending the month preparing to perform Mysteries … and Smaller Pieces, a revival of a collective creation by the world-famous experimental theater company, The Living Theatre. No theatre experience was necessary to sign up, but all students are taking an active role in the rehearsal, design and production of the performance, which is for DePauw Theatre's main stage 2011-12 season.
Mysteries … and Smaller Pieces runs Feb. 2-4 at 7:30 p.m. and Sunday at 3 p.m. Tickets are $3 for students and $6 for adults, and they will be available at the Green Center Box Office starting Jan. 30. Everyone is welcome to attend an opening night reception after Thursday's performance, and there is a talkback following the show on Friday night.
According to Good, Mysteries … and Smaller Pieces changed theatrical history in 1964. It was one of the first plays to be presented on the world's major stages without fictional characters, plot, scenery or costumes. The virtually wordless composition redefines the nature of theatre as pure communication between performers and audience.
Good's connection with The Living Theatre began when he was an undergraduate and later wrote an ethnography of the culture of The Living Theatre for his dissertation. "I worked for two years – running around New York and traveling to Europe on tours, helping them make two plays. I'm a company member of The Living Theatre because if you've ever been a part of it, you're always part of it." Good continues to write about the company and attends new productions. The theatre is located on the Lower East Side in Manhattan.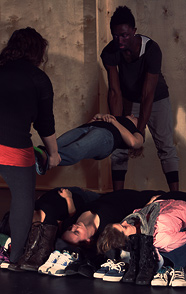 The Living Theatre incorporated in 1947, and the first play opened in 1951. "They continue to stay connected to their roots of finding new forms that help people connect with each other more effectively," Good describes. "That's really all they're trying to do. In the '50s and '60s, they performed some versions of older plays, but mostly what they do now is create new plays."
Good describes Mysteries … and Smaller Pieces as a ritual process designed to open up the possibility of complete communication between humans, which includes language but is not limited to it. "It's physical poetry," he says. "A lot of what happens is human bodies in space."
"In the '60s the setting for the play was a based on the attitude of 'Here's the system, the system is bad'. Living Theatre founder Judith Malina says, "What we said then is not what we'd say now." Our performance of Mysteries … and Smaller Pieces 50 years later is not about blaming the system," Good says. "It's about investigating what we are doing to each other that we have the agency to change."
The rest of the rituals are ideas about how we can – in reality – relate to each other. "At first it's esoteric and abstract," Good describes. "There are some theatre games – incense, yoga. All of these things are included in a ritual process designed to lead people to the last scene, which is based on the work of early-20th century theatre philosopher Antonin Artaud. He said theatre should be like the plague in the sense that during a plague, normal people rise to acts of heroism that they are not otherwise capable of doing. So we set up a stage plague to make people aware of the suffering happening around us."
Good hopes to send people out of the play changed. "Literally changed – materially and emotionally," he says. "Not that they will go out and start a huge movement, but the next move they make outside of our play is to pay attention to suffering and alleviate it."
Mysteries has bookend kinds of suffering that people cause and can do something about. The middle is a bridge showing that there are real things that humans can do about relating to each other. Some of it is very straightforward, but some is very physically abstract.
It's performed onstage, and then the actors come out into the audience. "You have a choice of whether or not to interact," Good says. "We're not going to pull anybody up. We do turn on the house lights for about half the play. It does say we're going to take you on this trip if you want to come, and then we move out to invite people."
Good has seen Mysteries performed 20 times and says that each time people laugh nervously when the lights come on, but if you pay attention, nobody is laughing at the end. Everybody is moved in some way.
"The students have been great," Good says. "I'm not sure they knew what they were getting into, but they've been open-minded. They're not trying to break down walls, but engaging the work and learning how to work with each other. I'm excited about their potential. We have some amazing and talented performers, and also those who bring different kinds of experience to the work, and that is an ideal combination."
To learn more, visit the DePauw Theatre website.
Back