Student-Led 'DePauw Donors' Raising Organ Donation Awareness
January 20, 2012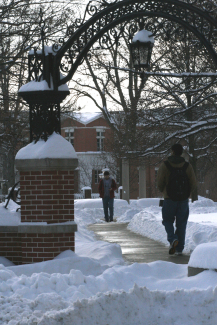 "As many students are immersed in Winter Term at DePauw University, sophomore Jack Burgeson and junior Matt Kukurugya are focusing their efforts on trying to educate the community about organ donation," reports Greencastle's Banner-Graphic. "In an effort to raise awareness about the topic of organ donation the pair decided to start an official group, the DePauw Donors, which is recognized by the DePauw student government as well as the Indiana Procurement Organization."
"There are over 100,000 people who need organs," Burgeson tells the newspaper. "Seven of those people are in Putnam County."
Lauren Boucher writes, "The group started in the fall after the two DePauw

swimmers got the idea from swim coach Adam Cohen. After researching the cause, they found only 42 percent of Americans are registered as organ donors and decided they wanted to help make a difference as there are little to no groups focused on organ donation in or around Putnam County ... Currently, the group has a total of seven members. Since forming, they have promoted the project at every greek house on DePauw's campus as well as the freshman activity fair."
Read the complete article at the Banner-Graphic's website.
Back