Steve Sear '87 One of Business Travel Industry's '25 Most Influential Executives'
January 26, 2012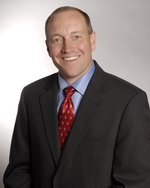 Steve Sear, senior vice president of global sales for Delta Airlines and 1987 graduate of DePauw University, is one of Business Travel News' "25 Most Influential Executives of the Business Travel Industry for 2011." The publication's 27th annual list was "determined by the BTN Group editors in December and January, following several solicitations for nominations from the industry."
"Sear over the past few years has overseen the Delta sales organization," writes Jay Boehmer. "He has led efforts to fully consolidate corporate contracts with joint venture partners, ease the transition for clients following the Delta-Northwest merger (deemed a success by many corporate buyers) and, more recently, spearhead new reporting for accounts."
Sear -- who was an economics major and Management Fellow at DePauw -- tells the publication, "Our

team is listening and partnering with our corporate customers, and they in turn are providing very constructive feedback on how we can enhance and develop programs that are really targeted at the corporate travelers."
Read more here.
Also available is this recent article.
Back