Sweet and Savory Science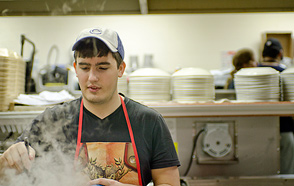 January 27, 2012
The explosion of interest in food preparation and the science behind it were the focus of a Winter Term course, Sweet and Savory Science, developed by Jeffrey "Jeff" A. Hansen, 1986 DePauw graduate and associate professor of chemistry and biochemistry. Hansen has taught the course five times solo, but this year he teamed up with assistant professor of philosophy Jeffrey "Jeff" S. Dunn to go one step further – to demonstrate the relationship between the science and philosophy of food and how each affects what comes out of the kitchen.
The professors raise questions such as, are there objective facts about gustatory taste? Do we have an obligation to try different foods, to not be picky eaters? What should we think about genetically modified food, about locally sourced organic food or about vegetarianism?
Dunn and Hansen try to discourage following a recipe step-by-step. Students learn to adapt recipes to make food taste the way you like it. With team names such as Whirled Peas, four groups of six students compete against each other – testing their culinary skills in Longden kitchen by preparing dishes and presenting them to a panel of judges, including two faculty members and one food service representative.
Hansen credits Linda Wallace, Longden Sodexo food manager for her assistance and contribution to the course over the years. "She coordinates the food service reps as judges. In lots of ways this year, we have three teachers. Linda contributes an awful lot. Jeff Dunn added a lot to the course this year as well. The topics related to the philosophy were a terrific addition to the course, and Jeff's knowledge in the kitchen was also great," Hansen says.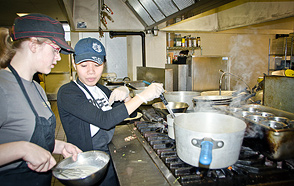 Each week teams prepared dishes that fit within this year's four themes ­– childhood favorites made for adults, vegetarian, British pub foods and Chopped, a theme based on the Food Network show with the same name. "This theme in particular really pushes the teams to be creative," Hansen says. On the show, chefs are given ingredients for their dishes just seconds before they have to feature them in their meal. However, Dunn and Hansen tell students on the first day of class which ingredients they have to feature in the appetizer, entrée and dessert. Students have two weeks to come up with a plan on how to use the ingredients in their meal.
For example, required ingredients to feature in the appetizer include tofu, nuts and tortillas. For the entrée, it's a whole chicken ­– and more parts you use, the more points you score – unsweetened chocolate, beets and breakfast cereal.
For each competition, teams set the tables for the judges. "It's not just about the cooking; it's also about setting a nice table and matching the table setting to the theme," Hansen explains. Students are required to write a description of each dish, including a page addressing the science behind the cooking techniques they used to prepare the meal and another page on the philosophy and cultural aspects of the meal.
The judges give points for taste, menu, presentation and how well the team followed the theme. After the judges have eaten, the entire class introduces themselves, and the judges offer their critique – what they liked and what could have been done a little better. Then each judge shares which team they thought won.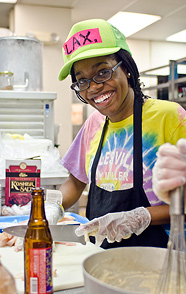 For sophomore Medjine Nzeyimana (at right), the British pub competition was her favorite. "We got a chance to research the history of certain classic dishes, such as fish and chips and sticky toffee pudding," she says. "I knew nothing about either dish, so the research was more intriguing and informative than the other challenges. The best part of the experience was learning about the chemistry and philosophy of food. Both professors did a great job discussing various concepts, such as genetically modified organisms, organic versus natural versus conventional farming, and the corporate war over the food market."
"It's one thing to know how to follow a recipe. It's an entirely different skill to understand the different chemical reactions that are occurring with each addition of ingredients. Knowing which substitution to perform on a dish can really affect the flavor of the food for better or worse.
"My favorite dish was perhaps the roasted eggplant and feta dip with pita chips that my team made for the vegetarian challenge. We used a Mediterranean theme for the whole meal and got great feedback from the judges. Our class liked the dip so much that we prepared it for President Casey's lunch last Tuesday. We really hope he enjoyed it!"
Winter Term takes place each January between fall and spring semesters. It reflects DePauw's serious commitment to non-traditional, experiential learning. Winter Term is a time of adventurous, intellectual exploration. Each year DePauw professors and staff members offer a wide range of incredible opportunities for students. For more information, visit the Winter Term Office website.
Back