Senior's Basketball Milestone Noted in Indy Star
January 28, 2012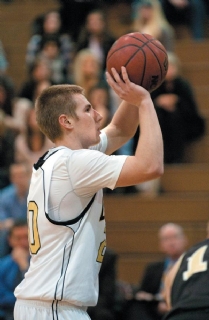 "DePauw's Sean Haseley (Zionsville) surpassed the 1,000-point mark for his collegiate career when he scored 14 points in a 66-62 loss to Wittenberg on Wednesday," notes this morning's Indianapolis Star. "He is the 24th player in DePauw history to do so. Haseley is averaging 12.8 points and 5.6 rebounds this season for the Tigers (12-6)."

Access the item, which appears in the newspaper's "On Campus" column, at IndyStar.com.
The men's basketball team is in action vs. Wooster at 3 p.m. today in North Coast Athletic Conference competition. Get more information at the team's official online page.
Back