Tigers Can't Overcome Cold Start in Loss at Ohio Wesleyan
January 28, 2012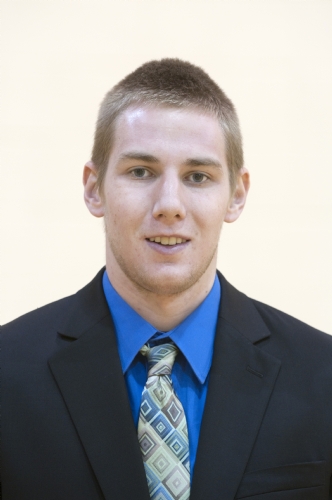 Delaware, Ohio - DePauw missed its first 10 shots from the field in falling behind 11-1 and it never recovered as Ohio Wesleyan claimed a 74-61 North Coast Athletic Conference win over the Tigers.
DePauw dropped to 12-7 overall and 6-4 in the NCAC, while the Battling Bishops improved to 15-4 overall and 7-3 in the conference.
Ohio Wesleyan's Tim Brady scored seven of the hosts' first 11 points and the Tigers didn't hit a field goal until Barry Flynn's jumper with 14:20 left in the first half. That bucket marked the last time DePauw trailed by single digits as Ohio Wesleyan gradually pulled away for a 40-20 halftime lead.
The margin stayed between 18-22 points most of the second half with the Battling Bishops taking their largest lead at 58-35 with 9:52 left. DePauw's Sean Haseley (pictured) scored eight straight in a 9-2 DePauw run which closed the gap to 60-44 with 7:06 remaining.
Ohio Wesleyan pushed the lead back to 20 before the Tigers finished by scoring seven of the game's final eight points.
Haseley led DePauw with 19 points and nine rebounds, while Michael Wilkison added 10 points and Alex Payne three assists.
Brady paced Ohio Wesleyan with 27 points with Marshall Morris grabbing nine rebounds and Andy Winters handing out four assists.
DePauw shot just 37.9 percent for the game to Ohio Wesleyan's 38.7 percent, but the Battling Bishops held a 44-36 rebounding edge. Ohio Wesleyan had four fewer turnovers than did the Tigers, but the hosts held a 27-11 advantage in points off of turnovers.
The Tigers return home to face Wabash on Wednesday, February 1. The meeting at 7:30 p.m. in the Lilly Center will be the third of the season between the two rivals.
Back