#13 DePauw Tops #9 Chicago
January 28, 2012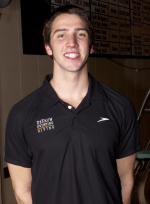 Chicago, Ill. - The 13th-ranked Tigers trailed ninth-ranked Chicago by 11 points with two events remaining, but DePauw claimed the top two spots in the 200-yard individual medley and won the 800 freestyle relay to top the Maroons, 153.5-146.5.
DePauw improved to 6-0 on the season, while Chicago slipped to 4-2.
The Tigers' 200 medley relay of Alex Alfonso, Matt Kukurugya, Matt Gleason (pictured) and John Montgomery opened the meet with a win in 1:36.11.
Jordan Bantista followed with a first in the 1000 free (10:00.08) with Casey Hooker doing the same in the 200 free (1:41.63).
Gleason won the 200 butterfly (1:54.83) and 100 fly (51.65) and Montgomery took the 50 free (21.48). Gleason then picked up his third win of the meet with a first in the 200 IM (1:58.73).
The Tigers then entered the 800 free relay trailing by two points, but Montgomery Robby Spichiger, Matt Haeske and Hooker won in 6:57.17.
DePauw wraps up the dual meet portion of its schedule on Friday, February 3, when it hosts Rose-Hulman at 6 p.m.
Event 2  Men 200 Yard Medley Relay
===============================================================================
    Pool Rec: P 1:32.27   2/13/2009 Emory University                           
                         H Brown, M White, R Scarborough, B Sloan          
    School                                         Seed     Finals       Points 
===============================================================================
  1 DePauw University  'A'                           NT    1:36.11         11  
     1) Alfonso, Alex FR                2) r:0.02 Kukurugya, Matt JR      
     3) r:0.07 Gleason, Matt SO         4) r:0.11 Montgomery, Johnny SR   
     r:+0.67  25.22    27.13    22.96    20.80                                    
  2 DePauw University  'B'                           NT    1:36.56          4  
     1) Morrison, George SO             2) r:0.01 Hessburg, Joe SO        
     3) r:0.27 Hooker, Casey FR         4) r:0.19 Burgeson, Jack SO       
     r:+0.50  25.81    26.49    22.73    21.53                                    
  3 University of Chicago  'A'                  1:37.08    1:36.85          2  
     1) Vanneste, Robert SR             2) r:0.31 Santoro, Nick SR        
     3) r:0.02 Hallman, Eric SO         4) r:0.27 Aleksa, Marius SR       
     r:+0.62  25.67    26.91    23.24    21.03                                    
  4 University of Chicago  'B'                       NT    1:36.90        
     1) Gvakharia, George FR            2) r:+0.0 Angeles, Andrew FR      
     3) r:+0.0 Kunkel, Robby FR         4) r:+0.0 Salomon, Andrew FR      
     r:+0.58  25.33    26.43    24.22    20.92                                    
  5 University of Chicago  'C'                       NT   x1:40.80        
     1) Gong, Wade JR                   2) r:+0.0 Chen, Kevin JR          
     3) r:+0.0 Thomas, David FR         4) r:+0.0 Gazda, Alec JR          
     r:+0.64  26.47    27.60    24.83    21.90                                    
 -- DePauw University  'C'                           NT         DQ        
     1) Ercoli, Chris FR                2) r:-0.05 Mullins, Nathan JR     
     3) r:0.36 Flores, Brendan SR       4) r:0.32 Nash, Andrew JR         
     r:+0.61  25.57    27.73    24.35    22.21                                    
 
Event 4  Men 1000 Yard Freestyle
===============================================================================
    Pool Rec: P 9:31.62   2/14/2009 Altman-Kurosaki, Jonas, CMU                
    Name              Year School                  Seed     Finals       Points 
===============================================================================
  1 Bantista, Jordan    FR DPU                       NT   10:00.08          9  
     r:+0.68  27.64   30.10   30.19   30.46   30.83   30.65   30.90   30.78
      30.84   30.78   30.25   29.99   30.12   29.67   29.85   29.69
      29.67   29.77   29.76   28.14                                
  2 Spichiger, Robby    JR DPU                       NT   10:06.66          4  
              27.60   29.50   29.89   30.10   30.50   30.70   30.77   30.91
      30.85   31.11   30.46   30.87   30.72   30.53   30.68   30.67
      30.84   29.94   29.96   30.06                                
  3 Widestrom, Erik     SR Chicago             10:12.68   10:13.57          3  
              27.15   29.29   29.96   30.23   30.70   30.72   30.95   30.92
      31.11   31.18   30.86   30.93   31.15   31.21   31.40   31.60
      31.31   31.57   31.31   30.02                                
  4 Kimball, Henry      FR Chicago             10:13.92   10:14.52          2  
              28.26   29.76   30.51   31.03   31.18   31.35   31.30   30.94
      31.25   31.66   30.97   31.70   31.54   31.31   31.10   31.54
      30.85   30.30   29.71   28.26                                
  5 Curts, Mike         SO DPU                       NT   10:14.73          1  
     r:+0.79  27.86   31.06   30.79   31.07   31.33   31.19   31.25   31.52
      31.64   31.53   30.99   31.28   31.22   31.14   31.06   30.66
      30.85   30.57   29.64   28.08                                
  6 Barrows, Denver     JR Chicago             10:42.55   10:30.49        
              28.02   30.48   30.99   31.47   31.33   31.85   31.48   31.88
      31.93   31.97   31.83   31.93   31.94   31.98   32.18   31.95
      32.25   32.27   31.52   31.24                                
 -- Harris, Brad        FR DPU                       NT         NS        

 Event 6  Men 200 Yard Freestyle
===============================================================================
    Pool Rec: P 1:39.27   2/11/2005 Chris Pearson, CMU                         
    Name              Year School                  Seed     Finals       Points 
===============================================================================
  1 Hooker, Casey       FR DPU                       NT    1:41.63          9  
     r:+0.80  23.87   25.83   26.45   25.48                                
  2 Salomon, Andrew     FR Chicago              1:42.22    1:43.21          4  
     r:+0.84  24.02   25.99   26.17   27.03                                
  3 Haeske, Matt        SO DPU                       NT    1:46.34          3  
     r:+0.78  24.84   26.68   27.59   27.23                                
  4 Morrison, George    SO DPU                       NT    1:47.09          2  
              24.63   27.14   28.24   27.08                                
  5 Du, Charles         JR Chicago              1:50.45    1:49.90          1  
              25.65   27.79   27.62   28.84                                
  6 Gazda, Alec         JR Chicago              1:52.44    1:52.48        
     r:+0.78  25.42   28.67   29.08   29.31                                

 Event 8  Men 100 Yard Backstroke
===============================================================================
    Pool Rec: P 48.62  11/21/2010 Bryce Bohman, LC                             
    Name              Year School                  Seed     Finals       Points 
===============================================================================
  1 Gvakharia, George   FR Chicago                52.04      53.11          9  
     r:+0.61  26.29   26.82                                                
  2 Alfonso, Alex       FR DPU                       NT      54.52          4  
     r:+0.70  26.18   28.34                                                
  3 Ercoli, Chris       FR DPU                       NT      55.15          3  
     r:+0.61  26.66   28.49                                                
  4 Gong, Wade          JR Chicago                56.42      55.20          2  
     r:+0.67  26.79   28.41                                                
  5 Wiethoff, Cameron   SO DPU                       NT      55.37          1  
     r:+0.55  26.45   28.92                                                
  6 Vanneste, Robert    SR Chicago                54.24      56.02        
     r:+0.58  26.95   29.07                                                
  7 Bernard, Evan       SO Chicago                57.20     x58.75        
     r:+0.66  28.51   30.24                                                
 -- Scherer, Matthew    FR Chicago                58.96     X59.18        
     r:+0.57  28.32   30.86                                                
 -- Gerhardstein, Chri  FR DPU                       NT         NS        
 
Event 10  Men 100 Yard Breaststroke
===============================================================================
    Pool Rec: P 56.77   2/13/2009 Alex Hostoffer, CASE                         
    Name              Year School                  Seed     Finals       Points 
===============================================================================
  1 Angeles, Andrew     FR Chicago                57.29      57.88          9  
     r:+0.74  27.60   30.28                                                
  2 Santoro, Nick       SR Chicago                58.09    1:00.25          4  
              27.97   32.28                                                
  3 Kukurugya, Matt     JR DPU                       NT    1:00.79          3  
     r:+0.71  28.31   32.48                                                
  4 Chen, Kevin         JR Chicago              1:01.60    1:01.35          2  
     r:+0.64  28.50   32.85                                                
  5 Hessburg, Joe       SO DPU                       NT    1:02.27          1  
     r:+0.74  28.94   33.33                                                
  6 Smith, Tom          SR DPU                       NT    1:02.82        
              29.43   33.39                                                
  7 Mullins, Nathan     JR DPU                       NT   x1:03.72        
     r:+0.61  29.44   34.28                                                
 
Event 12  Men 200 Yard Butterfly
===============================================================================
    Pool Rec: P 1:50.09  11/19/2011 Javier Hernadez, LWOOD                     
    Name              Year School                  Seed     Finals       Points 
===============================================================================
  1 Gleason, Matt       SO DPU                       NT    1:54.83          9  
     r:+0.82  25.47   29.22   30.28   29.86                                
  2 Hallman, Eric       SO Chicago              1:53.49    1:58.58          4  
     r:+0.78  26.31   29.95   30.45   31.87                                
  3 Hiller, Tommy       SO DPU                       NT    1:59.64          3  
     r:+0.85  26.87   30.26   31.57   30.94                                
  4 Barrows, Denver     JR Chicago              1:58.94    2:00.85          2  
     r:+0.71  27.70   30.52   31.26   31.37                                
  5 Strubbe, J.R.       SO DPU                       NT    2:04.33          1  
              26.84   30.66   32.87   33.96                                
  6 Du, Charles         JR Chicago              1:58.14    2:12.52        
              27.37   33.23   36.31   35.61                                
 -- Strader, Storm         DPU                       NT         NS        
 
Event 14  Men 50 Yard Freestyle
===============================================================================
    Pool Rec: P 20.16   2/12/2009 Andrew Lardiere, NYU                         
    Name              Year School                  Seed     Finals       Points 
===============================================================================
  1 Montgomery, Johnny  SR DPU                       NT      21.48          9  
          r:+0.79                                                          
  2 Aleksa, Marius      SR Chicago                21.56      21.53          4  
          r:+0.74                                                          
  3 Bacinich, Matt      FR DPU                       NT      21.91          3  
          r:+0.74                                                          
  4 Santoro, Nick       SR Chicago                21.91      22.28          2  
          r:+0.76                                                          
  5 Burgeson, Jack      SO DPU                       NT      22.38          1  
          r:+0.58                                                          
  6 Nash, Andrew        JR DPU                       NT     x22.39        
  7 Thomas, David       FR Chicago                22.73      22.81        
          r:+0.70                                                          
  8 Kunkel, Robby       FR Chicago                23.06     x22.86        
          r:+0.65                                                          
  9 Kubicki, Konrad     FR Chicago                24.25     x24.45        
 
Event 16  Men 1 mtr Diving
===============================================================================
    Pool Rec: P 279.95  11/17/2007 Garnet Smith, GRINN                         
    Name              Year School                  Seed     Finals       Points 
===============================================================================
  1 Restaino, Tony      FR Chicago               293.03     300.85P         9  
  2 Staab, Matt         FR Chicago               275.18     294.10P         4  
  3 Morales, Bobby      JR Chicago               282.68     270.70          3  
  4 Steffes, Kevin      FR Chicago               258.83    x268.65        
  5 Robinson, Evan      SR Chicago               194.20    x206.35        
  6 Contreras, Dean     SR DPU                       NP     159.55          2  
  7 Bowers, Thomas      JR DPU                       NP     132.15          1  
 
Event 18  Men 100 Yard Freestyle
===============================================================================
    Pool Rec: P 44.78   2/14/2009 Andrew Lardiere, NYU                         
    Name              Year School                  Seed     Finals       Points 
===============================================================================
  1 Aleksa, Marius      SR Chicago                47.26      47.77          9  
     r:+0.75  22.92   24.85                                                
  2 Bacinich, Matt      FR DPU                       NT      48.05          4  
     r:+0.78  23.40   24.65                                                
  3 Burgeson, Jack      SO DPU                       NT      49.04          3  
              23.45   25.59                                                
  4 Scherer, Matthew    FR Chicago                49.58      49.62          2  
              23.88   25.74                                                
  5 Hessburg, Joe       SO DPU                       NT      49.85          1  
     r:+0.73  23.93   25.92                                                
  6 Gazda, Alec         JR Chicago                   NT      50.04        
              24.36   25.68                                                
  7 Nash, Andrew        JR DPU                       NT     x50.16        
              23.92   26.24                                                
 -- Thomas, David       FR Chicago                50.94     X51.12        
              24.28   26.84                                                
 -- Montgomery, Johnny  SR DPU                       NT         DQ        
     r:+0.50  22.06   24.71                                                

 Event 20  Men 200 Yard Backstroke
===============================================================================
    Pool Rec: P 1:48.50  11/20/2010 Bryce Bohman, LC                           
    Name              Year School                  Seed     Finals       Points 
===============================================================================
  1 Gvakharia, George   FR Chicago              1:51.98    1:54.60          9  
     r:+0.62  27.94   29.40   28.67   28.59                                
  2 Gong, Wade          JR Chicago              2:04.19    2:01.17          4  
     r:+0.63  28.37   30.83   31.63   30.34                                
  3 Morrison, George    SO DPU                       NT    2:01.32          3  
     r:+0.59  28.05   30.74   31.74   30.79                                
  4 Vanneste, Robert    SR Chicago              1:58.32    2:02.54          2  
     r:+0.57  28.07   30.82   32.23   31.42                                
  5 Wiethoff, Cameron   SO DPU                       NT    2:02.99          1  
     r:+0.57  27.57   30.68   32.00   32.74                                
  6 Klossner, Dylan     SR DPU                       NT    2:03.03        
     r:+0.67  28.64   30.99   31.58   31.82                                
  7 Bernard, Evan       SO Chicago              2:04.17   x2:04.30        
     r:+0.67  29.76   32.02   32.02   30.50                                
  8 Gerhardstein, Chri  FR DPU                       NT   x2:04.37        
     r:+0.63  29.02   30.29   32.04   33.02                                
  9 Ercoli, Chris       FR DPU                       NT   x2:05.97        
     r:+0.63  28.56   32.97   32.75   31.69                                
 
Event 22  Men 200 Yard Breaststroke
===============================================================================
    Pool Rec: P 2:03.01   2/14/2009 Alex Hostoffer, CASE                       
    Name              Year School                  Seed     Finals       Points 
===============================================================================
  1 Angeles, Andrew     FR Chicago              2:04.96    2:06.89          9  
     r:+0.76  29.18   32.14   32.25   33.32                                
  2 Santoro, Nick       SR Chicago              2:08.12    2:11.31          4  
              30.36   33.18   33.26   34.51                                
  3 Chen, Kevin         JR Chicago              2:12.32    2:12.04          3  
              30.17   33.52   33.59   34.76                                
  4 Kukurugya, Matt     JR DPU                       NT    2:13.37          2  
     r:+0.73  29.71   33.33   34.17   36.16                                
  5 Bantista, Jordan    FR DPU                       NT    2:15.88          1  
     r:+0.67  30.46   34.20   35.88   35.34                                
  6 Smith, Tom          SR DPU                       NT    2:17.08        
              31.96   34.73   35.24   35.15                                
 -- Mullins, Nathan     JR DPU                       NT         DQ        
     r:+0.63  32.55   37.55   38.16   38.85                                
 
Event 24  Men 500 Yard Freestyle
===============================================================================
    Pool Rec: P 4:30.54   2/10/2005 Chris Pearson, CMU                         
    Name              Year School                  Seed     Finals       Points 
===============================================================================
  1 Salomon, Andrew     FR Chicago              4:32.45    4:37.75          6.5
     r:+0.84  25.64   27.94   28.37   28.65   28.48   28.87   28.37   27.95
      27.40   26.08                                                
  1 Hooker, Casey       FR DPU                       NT    4:37.75          6.5
     r:+0.79  25.60   28.01   28.26   28.84   28.69   28.63   28.71   28.14
      27.46   25.41                                                
  3 Haeske, Matt        SO DPU                       NT    4:54.58          3  
     r:+0.83  26.90   29.15   29.98   30.10   29.91   30.10   29.84   30.36
      29.46   28.78                                                
  4 Spichiger, Robby    JR DPU                       NT    4:55.60          2  
              27.08   29.64   30.20   30.54   30.69   30.53   30.08   29.74
      29.04   28.06                                                
  5 Kimball, Henry      FR Chicago              4:55.16    4:56.88          1  
     r:+0.83  27.96   29.90   30.51   30.37   30.93   30.45   30.30   29.37
      29.45   27.64                                                
  6 Widestrom, Erik     SR Chicago              5:05.19    5:04.22        
              26.95   29.63   30.27   30.59   30.94   30.75   30.84   31.58
      31.87   30.80                                                
  7 Curts, Mike         SO DPU                       NT   x5:05.68        
     r:+0.75  27.46   30.68   31.13   30.83   31.26   30.86   30.99   31.50
      30.70   30.27                                                
  8 Harris, Brad        FR DPU                       NT   x5:09.08        
              27.37   30.07   30.89   31.48   31.43   31.53   31.72   31.92
      31.92   30.75                                                
 
Event 26  Men 100 Yard Butterfly
===============================================================================
    Pool Rec: P 49.31   2/13/2009 Andrew Lardiere, NYU                         
    Name              Year School                  Seed     Finals       Points 
===============================================================================
  1 Gleason, Matt       SO DPU                       NT      51.65          9  
     r:+0.80  24.06   27.59                                                
  2 Alfonso, Alex       FR DPU                       NT      52.44          4  
     r:+0.72  24.15   28.29                                                
  3 Kunkel, Robby       FR Chicago                52.70      53.15          3  
     r:+0.71  24.83   28.32                                                
  4 Hallman, Eric       SO Chicago                51.55      53.57          2  
     r:+0.76  24.94   28.63                                                
  5 Du, Charles         JR Chicago                53.41      53.94          1  
     r:+0.78  25.09   28.85                                                
  6 Flores, Brendan     SR DPU                       NT      54.21        
     r:+0.78  25.24   28.97                                                
  7 Hiller, Tommy       SO DPU                       NT     x55.89        
     r:+0.85  26.47   29.42                                                
  8 Strubbe, J.R.       SO DPU                       NT     x56.02        
     r:+0.77  26.06   29.96                                                
  9 Kubicki, Konrad     FR Chicago                58.83     x59.03        
              27.09   31.94                                                
 -- Thomas, David       FR Chicago                58.28     X57.39        
              26.10   31.29                                                
 
Event 28  Men 3 mtr Diving
===============================================================================
    Pool Rec: P 319.40   1/22/2011 Mike Grecco, UWM                            
    Name              Year School                  Seed     Finals       Points 
===============================================================================
  1 Staab, Matt         FR Chicago               298.50     331.55P         9  
  2 Restaino, Tony      FR Chicago               261.85     311.90          4  
  3 Steffes, Kevin      FR Chicago               290.25     278.50          3  
  4 Morales, Bobby      JR Chicago               315.60    x262.60        
  5 Robinson, Evan      SR Chicago               183.45    x219.30        
  6 Contreras, Dean     SR DPU                       NP     125.30          2  
  7 Bowers, Thomas      JR DPU                       NP     119.00          1  
 
Event 30  Men 200 Yard IM
===============================================================================
    Pool Rec: P 1:53.07   2/12/2009 Tom DiMarco, EMORY                         
    Name              Year School                  Seed     Finals       Points 
===============================================================================
  1 Gleason, Matt       SO DPU                       NT    1:58.73          9  
     r:+0.78  25.01   31.65   34.69   27.38                                
  2 Alfonso, Alex       FR DPU                       NT    1:58.81          4  
     r:+0.74  24.58   29.63   36.18   28.42                                
  3 Angeles, Andrew     FR Chicago              2:01.53    2:00.21          3  
     r:+0.72  26.48   31.05   33.02   29.66                                
  4 Barrows, Denver     JR Chicago              1:57.89    2:02.58          2  
     r:+0.71  26.09   30.84   36.48   29.17                                
  5 Klossner, Dylan     SR DPU                       NT    2:03.55          1  
     r:+0.66  26.17   31.61   36.33   29.44                                
  6 Wiethoff, Cameron   SO DPU                       NT   x2:03.99        
     r:+0.79  26.54   30.44   36.35   30.66                                
  7 Chen, Kevin         JR Chicago              2:06.86    2:06.46        
     r:+0.62  26.71   34.32   34.82   30.61                                
  8 Widestrom, Erik     SR Chicago              2:00.16   x2:06.53        
     r:+0.72  26.54   33.31   36.58   30.10                                
  9 Gerhardstein, Chri  FR DPU                       NT   x2:09.69        
     r:+0.70  27.38   32.22   39.92   30.17                                
 -- Bantista, Jordan    FR DPU                       NT        SCR        
 
Event 32  Men 800 Yard Freestyle Relay
===============================================================================
    Pool Rec: P 6:45.54   2/13/2009 Washington University                      
                         C Valach, A Beyer, D Chao, K Leckey               
    School                                         Seed     Finals       Points 
===============================================================================
  1 DePauw University  'A'                           NT    6:57.17         11  
     1) Montgomery, Johnny SR           2) r:0.35 Spichiger, Robby JR     
     3) r:0.22 Haeske, Matt SO          4) r:0.28 Hooker, Casey FR        
     r:+0.82  23.42    49.89  1:17.20  1:44.43    24.19    50.74  1:17.99  1:44.57
       23.82    50.33  1:18.01  1:45.76    23.09    48.60  1:15.20  1:42.41
  2 University of Chicago  'A'                  6:58.57    7:05.80          4  
     1) Hallman, Eric SO                2) r:0.21 Aleksa, Marius SR       
     3) r:0.26 Gvakharia, George FR     4) r:0.08 Salomon, Andrew FR      
     r:+0.76  24.75    51.86  1:19.82  1:48.41    24.26    51.00  1:19.16  1:47.71
       23.99    51.20  1:18.34  1:45.71    23.27    49.45  1:16.68  1:43.97
  3 DePauw University  'B'                           NT    7:10.48          2  
     1) Morrison, George SO             2) r:0.42 Burgeson, Jack SO       
     3) r:0.24 Bantista, Jordan FR      4) r:0.13 Bacinich, Matt FR       
     r:+0.62  24.23    51.91  1:20.76  1:47.19    24.25    51.81  1:19.67  1:47.70
       24.60    51.70  1:19.53  1:47.58    23.37    51.04  1:19.92  1:48.01
  4 University of Chicago  'B'                       NT    7:30.01        
     1) Du, Charles JR                  2) r:0.43 Kimball, Henry FR       
     3) r:0.17 Scherer, Matthew FR      4) r:0.39 Gazda, Alec JR          
     r:+0.79  25.69    54.38  1:22.59  1:50.91    26.06    55.62  1:25.41  1:54.60
       24.21    52.14  1:21.33  1:52.10    25.41    54.12  1:23.22  1:52.40
 
Back