Carl Haas Named Men's Lacrosse Coach
February 2, 2012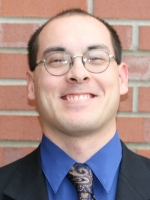 Greencastle, Ind. - Carl Haas, head coach at Saint Vincent College (Pa.), is DePauw University's choice to serve as its first men's lacrosse head coach.
"I'm excited to have Carl join the staff and start the men's varsity lacrosse program at DePauw University," incoming Director of Athletics Stevie Baker-Watson said.
"His experience as a head coach in men's lacrosse will enable the program to make an immediate impact. Carl's philosophy on the game, as well as the student-athlete experience, is a great fit for DePauw."
Haas has served as the head coach at Division III Saint Vincent the last two seasons after one year as an assistant. He led the Bearcats to a 14-12 record in two seasons including a 9-5 mark in 2011 which was the program's first winning season since 2005. Each of his two teams finished in the top 10 in the nation in scoring.
"I think DePauw has great potential in men's lacrosse and this is an incredible opportunity," Haas said.
"There are a lot of young men ready to come to a great school and compete in a strong conference. I'm very appreciative of the coaching opportunities Saint Vincent provided me and I look forward to building the DePauw program."
Prior to coming to Saint Vincent, Haas was an assistant at Division III Roanoke College from 2003-08. During that time the Maroons compiled a 63-22 record including two conference championships, three NCAA postseason appearances and two trips to the Division III semifinals.
Haas coached three all-America players including the 2006 Division III Defender of the Year. He began his career as an assistant during the 2003 season at Division II St. Andrews Presbyterian College.
A native of Fairfax, Va., Haas graduated from the Virginia Military Institute where he earned a bachelor of arts degree in history. Haas earned four varsity letters for the Division I Keydets and served as a two-year captain. Twice he was named to the Southern Conference Academic Honor Roll.
In August 2011, DePauw announced the addition of men's and women's lacrosse as varsity sports. The teams will compete on the varsity level beginning with the 2012-13 academic year.
The addition of the two programs is made possible by a generous gift from trustee Steve Trulaske '79, and by leadership gifts from James K. Baker '53 and Joe and Nancy Hollingsworth '71 & '72. Their gifts will fund start-up costs and the initial operational expenses of the two teams.
Back