Pulitzer Prize-Winner James B. Stewart '73 Discusses Tangled Webs in Indiana Speech
February 3, 2012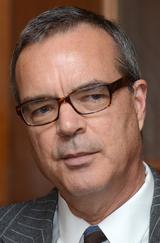 In a speech in Terre Haute last night, bestselling author and award-winning journalist James B. Stewart said that "the problem of perjury is nothing new for human beings," reports today's Terre Haute Tribune-Star. Brian Boyce writes, "From the Ten Commandments to Roman civil law, English common law to the modern U.S. legal system, the importance of honesty has been recognized throughout history, he said."
Stewart discussed his latest book, Tangled Webs: How False Statements are Undermining America: From Martha Stewart to Bernie Madoff, in an event at Indiana State University.
"Stewart won a Pulitzer Prize in 1998 for his work at the Wall Street Journal covering the stock market crash and insider training," Boyce writes. "A graduate of DePauw University and Harvard Law School, he belongs to the New York bar and holds the Bloomberg chair at the Columbia University School of Journalism, where he serves as a professor while writing a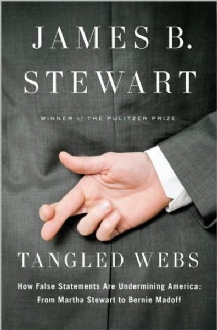 column for the New York Times."

The newspaper adds, "A native of Quincy, Ill., Stewart remarked on his own upbringing which emphasized 'Midwestern values,' explaining the importance of truth was drummed into his head at an early age. But somewhere along the line, the public seems to have excused dishonesty by the wealthy and powerful, he said. Worse yet, they seem to expect it. Recounting how former Democratic presidential candidate John Edwards coerced a staff member into falsely swearing he'd fathered his own baby with a consultant, Stewart noted that Edwards' wife was dying of cancer at the time. 'I can't imagine perjury getting any lower than that,' he said, adding federal law enforcement officials have told him they go into work expecting people to lie nowadays."
Read the complete summary -- headlined "An advocate for the truth: DePauw grad's new book focuses on damage of lies" -- at the Tribune-Star's website.
The author of the "Common Sense" column for the Business Day section of the New York Times, Stewart won the Pulitzer Prize for Explanatory Journalism in 1988 for his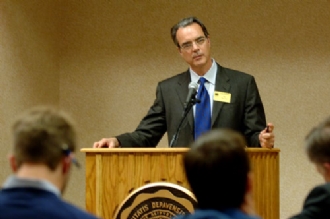 articles in the Wall Street Journal about the 1987 dramatic upheaval in the stock market and insider trading. He is the author of 11 books including Den of Thieves; DisneyWar: The Battle for the Magic Kingdom; and Heart of a Soldier: A Story of Love, Heroism, and September 11th.
A member and former chair of DePauw's Board of Trustees, Jim Stewart received the 2011 Elliott V. Bell Award from the New York Financial Writers Association. He has also been honored with the Edgar Award, the George Polk Award and Gerald Loeb awards in 1987, 1988, and 2006.
Stewart was the recipient of DePauw's Young Alumni Award in 1988, an Alumni Citation in 1988, an honorary Doctor of Journalism degree in 1989, and the Old Gold Goblet in 2009.
Back