Nobel Laureate Leymah Gbowee, Here Next Week, Launches Peace Foundation
February 7, 2012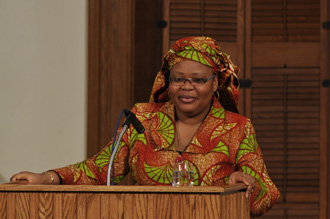 Leymah Gbowee, the 2011 Nobel Peace Prize recipient who will visit DePauw University next week, "on Monday launched a peace foundation in her country Liberia aimed at lifting young girls out of social squalor and giving them life skills," notes an AFP report. "She said that teenage pregnancy was one of the main problems facing young girls in Liberia, along with gender-based violence, low literacy levels and high infant and maternal mortality rates."
Gbowee stated, "We have many challenges ahead of us as Liberians and Africans. Our girls face discrimination, violence and vulnerability due to no fault of their own -- save from being born a female." She added, "Though these challenges are daunting, they are surmountable."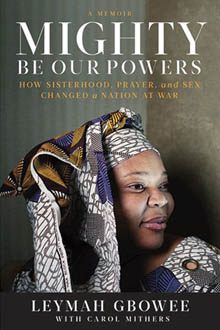 Read more here.
Leymah Gbowee will discuss "Dedicating Your Life to Promoting Peace"next Wednesday, February 15, in a Timothy and Sharon Ubben Lecture. The free program begins at 7:30 p.m. in Meharry Hall of historic East College. Further details of her DePauw visit can be found in this article.
Gbowee, Liberian President Ellen Johnson Sirleaf and Yemen's Tawakkul Karman were honored last month as the 2011 Nobel Peace Prize recipients "for their non-violent struggle for the safety of women and for women's rights to full participation in peace-building work," in the words of the Nobel Prize committee.
Back