Senior Playwright Pens Award Winner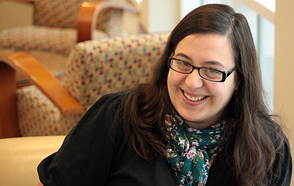 February 8, 2012
Since this feature was written, J.C. Pankratz '12 has won a prestigious Michael Kanin Playwriting Award, and will attend the Kennedy Center American College Theatre Festival in Washington, D.C. in April.
Joan Catherine " J.C." Pankratz '12 is a national semifinalist as a result of a one-act play competition that took place in January at the Kennedy Center American College Theatre Festival, Region III. Her play was one of two selected from more than 60 entries that has been submitted to the National-level KCACTF conference this spring in Washington D.C. Two co-finalists are chosen from each of the eight regions for a total of 16, and up to six of them will earn a trip to the nation's capital. Pankratz is hoping to be one of them.
The Kennedy Center American College Theatre Festival is a national theatre program that began in 1969. Today 18,000 college students are involved nationwide. DePauw is one of 600 academic institutions where theatre departments and student artists receive outside assessment by KCACTF respondents.
Pankratz was involved in theatre as a high school student, which is also when her interest in dramatic writing began. She was encouraged when she submitted a piece to a state competition in Indiana for creative work and won first place – a $3,000 scholarship. She also attended a creative writing camp at DePauw during her junior year in high school and met Chris White, associate professor of English, who teaches courses in playwriting.
Pankratz says she decided to come to DePauw a year later to be able to work closely with professors who would be invested in her growth as a writer, including Professor White and Creative Writing Professor Joe Heithaus, among others. "During my first year here, Professor White and I reconnected because she was in front of me in line at Café Roy," Pankratz recalls. "She had seen a 10-minute play I wrote for the Playwrights Festival earlier that year, and she remembered me."
It was two years later in Professor White's Writing for Performance class that Pankratz developed her idea for the 30-minute, one-act play that was chosen for the KCACTF national conference. The play is a one-person piece, and the main character portrays two other characters as well.
The play is about a woman in her early 30s who moves back to a small town in Iowa after her mom dies, and she's very much an outcast. One day she wakes up to a burning bush in her backyard. She's alone and doesn't have anyone to talk to about it. She lives with the secret for a while and one day forgets to cover up the bush. People think her house is on fire, and the entire town moves in to see what happens next.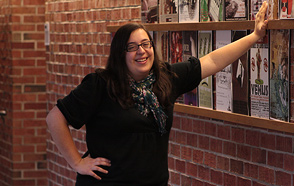 "At the Festival, the play was given a staged reading," Pankratz says. "It's a script competition, not an acting competition. The actors read the play, including all the stage directions. That way you can hear the play without all the complications of staging it. It's pretty cut-and-dried."
The play is read in front of three professors or respondents from different parts of the country. Pankratz explains it's like a mini-workshop. "After the play is read, you're called up to the front, and the respondents offer constructive feedback," she says.
"They had really thoughtful comments. They were prepared. They had read the play beforehand. I was given the opportunity to revise based on their comments. So I did and turned it in the next day. They read that draft, and then decided on two co-finalists."
While Pankratz waits to hear whether she'll attend the national festival in Washington D.C., she is busy preparing to graduate by applying to apprenticeships and internships at theatres around the country. She is leaning toward New York City partly because of a successful internship she had last year through the New York Arts Program at New Dramatists, a playwriting organization.
An English writing major and women's studies minor, Pankratz says, "The theatre program is wonderful at DePauw. The professors are accessible, happy to work with students and remarkably self-sustaining. Even though we're a small school, DePauw Theatre produces really good, quality productions. If you want to be involved, there are many opportunities to prove yourself and learn new skills – including every element of the theatre."
Back