Simpson Chapel, Named for University's First President, to be Rededicated in DC Next Week
February 9, 2012
Simpson Memorial Chapel, which is located in the United Methodist Building in Washington, D.C., and is named after the first president of what is today known as DePauw University, will be rededicated in a service next Wednesday, February 15, in the nation's capital. Simpson Chapel has recently been renovated. Bishop Deborah Kiesey, president of the General Board of Church & Society (GBCS) of the United Methodist Church, will preach at the ceremony. (at right: postcard of Simpson Chapel after its last renovation in the 1950s)
For more than eight decades, Simpson Chapel has offered a place for worship, education and reflection at the heart of Capitol Hill. It was originally dedicated on January 16, 1929, and was named in memory of Bishop Matthew Simpson, and his wife, Ellen Verner Simpson.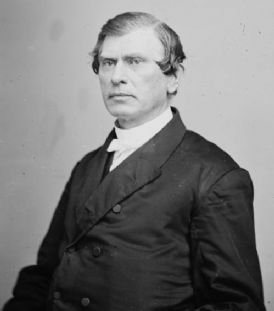 "Following the first renovation of the chapel in 1954, a rededication service hailed Bishop Simpson as 'a Titan of the Methodist Church,'" notes an announcement. "A full-fledged physician at 23, he spoke and taught four languages beside his own. A progressive thinker and planner for his church, he was a leader in the settlement of such questions as pewed churches, mixed sittings, and the admission of laymen to the General Conference on equal terms with ministers."
On February 7, 1839, Indiana Asbury's Board of Trustees elected Simpson as the college's first president, a post he held until July 1848. "Simpson became bishop of the Philadelphia Area and often spoke at meetings as a substitute for his friend, the President of the United States, Abraham Lincoln. When Lincoln died, it was Simpson whom Mrs. Lincoln wanted to pray with them, to travel to Springfield, Ill., and deliver the funeral oration at the grave."
The latest renovation of Simpson Chapel "features
a raised platform with accessible ramp, a new communion table, a new audio/visual system, and new seating. Working within the existing space, architect Paul Warner retained the original wood paneling, plaster moldings and hardwood floor while adopting the flexibility of a modern worship space."
Read more by clicking here.
Founded in 1837 as Indiana Asbury, DePauw University is a private, selective, coeducational, residential, undergraduate College of Liberal Arts and School of Music with an enrollment of 2,394. Learn more about DePauw's 175th anniversary celebration by clicking here.
Back