Community Service Efforts of Students Noted in Newspaper
February 13, 2012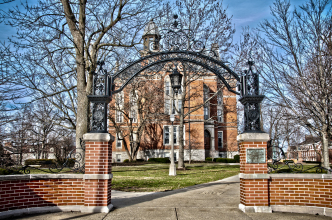 "St. Andrew's Episcopal Church has welcomed the students in the DePauw Community Service program as partners in the work of the Putnam County Non-Food Pantry," reports Greencastle's Banner-Graphic. "Students Sharon Maes, Courtney Crosby and Sandra Bertin helped out in late January. These students encouraged other DePauw students to join them in supporting the project. At the DePauw Community Service Fair, 23 students expressed interest in the program."
The news item adds, "These students will help transporting cases of items for the pantry, as well as organizing the pantry, preparing the bags for the clients and distributing items. They also plan to have a drive to collect donations to the pantry from the DePauw students. Maes, Crosby and Bertin will serve as the coordinators of the DePauw group."
Read more at the newspaper's website.
The 2011 National Survey of Student Engagement finds that by their senior year, 83% of DePauw students had participated in community service or volunteer work. Learn more in this summary.
Back