Fourth-ranked DePauw Collects 21st Straight Win
February 15, 2012
Greencastle, Ind. - Fourth-ranked DePauw used a 14-2 second-half run to expand a nine-point lead to 21 and topped visiting Wittenberg, 62-45.
The host Tigers improved to 22-1 overall and 15-0 in the North Coast Athletic Conference with their 21st straight win and 71st consecutive home conference victory. Wittenberg dropped to 12-11 overall and 8-7 in conference play.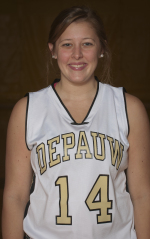 DePauw led by as many as 17 late in the first half and took a 35-23 lead into the intermission. Wittenberg trimmed the lead to 37-28 in the opening three minutes of the second half, but DePauw buckets by Alex Gasaway, Ali Ross and Katie Aldrich pushed the lead to 43-28.
Wittenberg's Amber Rice temporarily stopped the run with a jumper before the Tigers scored the next eight capped by Kathryn Denbow's layup with 10:44 left which made it 51-30. Wittenberg got no closer than 16 the rest of the way.
Gasaway and Ross each scored 13, while Katie Aldrich added 12 and matched a career-high with 13 rebounds. Ellie Pearson hauled down nine boards and dished out three assists to share the team lead with Denbow. Gasaway blocked three shots to lead the team.
Enri Small and Sarah Watson each scored 15, while Karen Daniel-Hamberg grabbed six rebounds and Kim Replogle handed out three assists.
DePauw had its second worst shooting night of the season at 33.8 percent, but limited Wittenberg to just 24.1 percent from the floor. The host Tigers also held a 54-32 edge on the boards, but only a 14-6 margin in second-chance points.
The Tigers wrap up the NCAC regular season on Saturday when they travel to Wooster for a 1 p.m. game. Wittenberg travels to Ohio Wesleyan for a 1 p.m. contest.
PICTURED: DePauw seniors Katie Aldrich (left) and Kathryn Denbow (right).
.
Back