DePauw Nearly Erases Late Nine-Point Deficit but Loses to #21 Wittenberg
February 15, 2012
Greencastle, Ind. - DePauw cut 21st-ranked Wittenberg's late nine-point lead to just one, but Sean Haseley's jumper with two seconds left was off the mark and the visiting Tigers held on for a 56-55 North Coast Athletic Conference win at the Neal Fieldhouse.
DePauw dropped to 13-11 overall and 7-8 in NCAC play, while Wittenberg improved to 19-5 overall and 13-2 in conference play and wrapped up the outright NCAC title. The loss was DePauw's second straight one-point defeat and its sixth loss in the last seven games with four coming by four or fewer points.
The hosts went over eight minutes without a field goal in the second half and Wittenberg outscored DePauw, 10-1, to take a 50-41 lead. Wittenberg still led, 53-44, with 5:13 remaining after Michael Cooper nailed his sixth three-pointer of the game.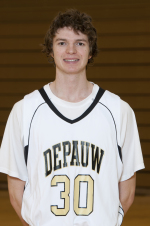 Barry Flynn and Alex Payne each scored on fast break layups to trim the lead to 53-48 before Wittenberg's Clayton Black hit one of two free throws. Flynn responded with a basket and Wittenberg couldn't convert on the other end. Michael Wilkison's layup with 1:33 left closed the margin to 54-52.
Black hit two free throws with 1:13 remaining to push the lead to four, but Wilkison knocked in a three with 45 seconds left to make it 56-55. Wittenberg turned the ball over with 22 seconds left, but Haseley's effort from just inside the free throw line fell short.
DePauw jumped out to an 8-0 lead as senior Ian Rumpp, making his first career start, hit his first two three-point attempts in the game's opening 54 seconds. The Tigers stretched the lead to as many as nine at 16-7, but Wittenberg rallied with a 9-2 run to pull within two at 18-16.
DePauw held a 23-22 lead after Kevin Sullivan's three with 1:45 left, but Cooper came right back with a three and Wittenberg hit 3-of-4 from the line on its next possession after Sullivan was whistled for a personal foul and a technical foul. Haseley's three with nine seconds left, cut the Wittenberg lead to 28-26 at halftime.
Flynn led DePauw with 13 points, while Payne added 10. Flynn and Tommy Fernitz each grabbed six rebounds with Payne and Sullivan handing out three assists apiece.
Cooper led Wittenberg with 22 points and 12 rebounds, while Black followed with 14 points and Josh McKee totaled three assists.
DePauw shot 42.9 percent from the floor to Wittenberg's 33.3 percent, but Wittenberg held a 40-25 advantage on the boards and turned its 16 offensive rebounds into a 13-5 edge in second-chance points.
DePauw travels to Wooster on Saturday, February 18, for a 3 p.m. contest while Wittenberg hosts Hiram at 4 p.m.
PICTURED: Seniors Sean Haseley (left) and Ian Rumpp (right) played their final home game as Tigers.
Back