#10 DePauw Finishes Third at NCAC Men's Swimming and Diving Championships
February 18, 2012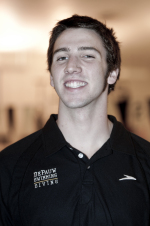 Canton, Ohio - The 10th-ranked DePauw men totaled 987 points and finished third at the 2012 North Coast Athletic Conference Championships. Denison won with 1,665 points followed by Kenyon with 1,546. Wabash was fourth with 637.
Casey Hooker finished sixth in the 1,650-yard freestyle in and NCAA "B" time of 16:03.34, while Jordan Bantista was seventh in a "B" time of 16:14.07.
George Morrison was eighth in the 200 backstroke in 1:55.64, while Cameron Wiethoff was 12th in 1:56.11 and Dylan Klossner 14th in 1:59.12.
Alex Alfonso was 11th in the 100 free in 47.03, while Matt Bacinich was 13th (47.32), Jack Burgeson 14th (47.66), Matt Haeske 15th (47.84) and Joe Hessburg 16th (48.02).
Matt Kukurugya finished fourth in the 200 breaststroke in 2:07.62, but later achieved a "B" time of 2:05.78 during a time trial. Bantista was eighth in 2:11.33.
In the 200 butterfly, Matt Gleason (pictured) finished third to earn all-conference honors. His time of 1:51.53 was an NCAA "B" time and broke his own school record.
DePauw's 400 free relay of Hooker, Alfonso, Burgeson and John Montgomery wrapped up the meet with a third-place showing in an NCAA "B" time of 3:03.95.
Back