#4 DePauw Women Host Oberlin Tonight in NCAC Quarterfinal Game
February 21, 2012
TICKET INFORMATION | WGRE AUDIO | LIVE VIDEO | LIVE STATS | DEPAUW GAME NOTES | NCAC SITE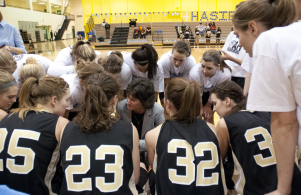 Greencastle, Ind. - DePauw opens North Coast Athletic Conference Tournament play tonight when it hosts Oberlin College in a quarterfinal game. Tipoff in Neal Fieldhouse is set for 7:30 p.m.
The Tigers, ranked fourth by D3hoops.com and in the latest USA Today/ESPN Division III Coaches' Poll, are 23-1 overall and finished NCAC play at 16-0 after Saturday's 51-31 win at Wooster. Ali Ross and Alex Gasaway led DePauw with 12 points apiece, while Katie Aldrich just missed a double-double with nine points and 10 rebounds.
Aldrich leads the Tigers with 11.9 points per game, while Ross follows with 10.9 and leads the way with 42 three-pointers and 1.8 steals per outing. Ellie Pearson is the team leader with 8.0 rebounds, while Kate Walker leads with 3.0 assists.
The Tigers have won 22 straight after a November 19 defeat at Franklin by a 52-47 score. This marks the seventh straight season in which DePauw has won at least 10 straight during a season. The 23-1 start is the best by DePauw since the 2005-06 squad was 29-1 and the 22-game streak matches the second longest in school history. DePauw has extended its streak of 20-win seasons to 11 straight and 15 in the last 16 seasons.
In the most recent NCAA statistical rankings, DePauw was second in rebound margin and three-point percentage, fourth in scoring defense, scoring margin and assist/turnover ratio and fifth in fewest turnovers per game.
Oberlin is 6-19 overall and 3-13 in NCAC play following last Wednesday's 62-48 loss at Denison. Allison Gannon led the Yeowomen with 16 points and shared game rebounding honors with Christina Marquette as each grabbed nine. Malisa Hoak dished out four assists and Kelly Warlich blocked four shots.
Gannon paces the team with 13.6 points per game and is second with 6.4 rebounds. Marquette follows with 13.3 points and Warlich 10.7. Warlich leads the team with 7.2 rebounds and 1.6 blocks each game, while Marquette has hit 31 three-pointers.
DePauw won the first meeting by a 78-33 score in Greencastle. Ross led the Tigers with 14 points and hit 4-of-5 three-pointers. Walker dished out seven assists with just one turnover. Gannon led Oberlin with 16 points and eight rebounds. The Tigers also won the February 11 game at Oberlin, 70-39, as Gasaway came off the bench for 18 points and Pearson totaled eight rebounds and four steals. Warlich led Oberlin with 17 points, while Marquette hauled down nine rebounds.



Back