Second-Half Surge Sends Fourth-ranked Tigers to NCAC Quarterfinal Win
February 21, 2012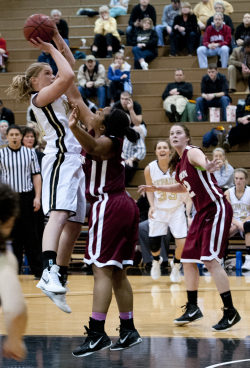 Greencastle, Ind. - Fourth-ranked DePauw scored the final five points of the first half and the first 10 of the second and pulled away from visiting Oberlin on the way to a 76-38 North Coast Athletic Conference Tournament quarterfinal win.
The Tigers improved to 24-1 on the season with their 23rd straight win, while the Yeowomen finished their season at 6-20.
With the win, the top-seeded Tigers advance to Friday night's 8 p.m. NCAC semifinal game and will host Wittenberg. Wittenberg topped Allegheny, 82-66 tonight. Denison and Kenyon will square off in the 6 p.m. semifinal game at DePauw's Neal Fieldhouse.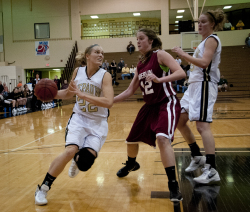 The lead changed five times in the early going before DePauw scored 10 straight including back-to-back threes from Alex Gasaway and Emma Ondik to take a 26-14 lead with 2:54 left in the first half. Oberlin scored the next five, but the Tigers finished the half with five straight to take a 31-19 advantage into the intermission.
DePauw stretched that lead to 41-19 in the opening eight minutes of the second half before the Yeowomen scored their first points with 11:30 left. Oberlin got as close as 16 at 41-25, but DePauw outscored them 35-13 over the final 10 minutes.
Savannah Trees scored a career-high 14 pints, while Gasaway added 13 and Ali Ross 10. Ellie Pearson and Katie Aldrich each grabbed seven rebounds and Kathleen Molloy matched a career best with four assists.
Allison Gannon paced Oberlin with 12 points, while Kelly Warlich added 11. Ashley Young hauled down six rebounds in the loss.
DePauw shot 41.5 percent from the field including 50 percent in the second half and held Oberlin to just 32.5p percent. The Tigers held a narrow 37-36 edge on the boards but committed just nine turnovers to Oberlin's 30.
Back