#4 DePauw Hosts NCAC Women's Basketball Semifinals and Championship Games
February 24, 2012
DEPAUW HOST SITE (with links to video and audio) | LIVE STATS | DEPAUW GAME NOTES | NCAC SITE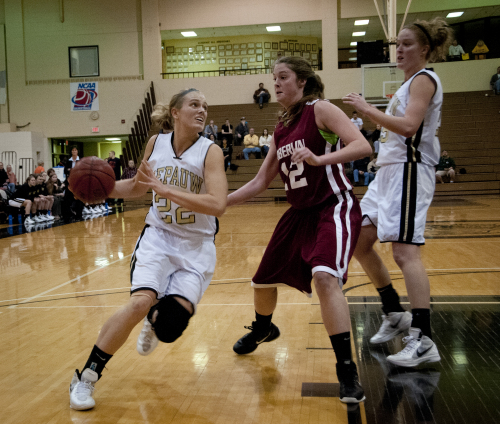 Greencastle, Ind. - Top-seed DePauw hosts the semifinal and championship rounds of the North Coast Athletic Conference Tournament Friday, February 24, and Saturday, February 25.
The Tigers face #5 seed Wittenberg in Friday's 8 p.m. semifinal game with #3 seed Kenyon facing #2 seed Denison in the 6 p.m. game. Friday's winners meet in Saturday's 7 p.m. championship game with the winner earning automatic qualification into the NCAA Division III Championship.
Gates open at 5 p.m. on Friday and 6 p.m. Saturday and tickets will be available for cash purchase at that time. Adults will be admitted for $10 each night, while students from NCAC schools will be admitted at no charge by showing their institution ID. Children and non-NCAC students will be charged $5.
The Tigers, ranked fourth by D3hoops.com and in the USA Today/ESPN Division III Coaches' Poll, are 24-1 overall after Tuesday's 76-38 quarterfinal win over Oberlin. Savannah Trees scored a career-high 14 points, while Ellie Pearson and Katie Aldrich each grabbed seven rebounds and Kathleen Molloy equaled a career best with four assists.
Aldrich leads the Tigers with 11.6 points per game, while Ali Ross follows with 10.8 and leads the way with 43 three-pointers and 1.8 steals per outing. Ellie Pearson is the team leader with 8.0 rebounds, while Kate Walker leads with 3.0 assists.
The Tigers have won 23 straight after a November 19 defeat at Franklin by a 52-47 score for the seventh straight season in which DePauw has won at least 10 straight during a season. The 24-1 start is the best by DePauw since the 2005-06 squad was 29-1 and the 22-game streak matches the second longest in school history. DePauw has extended its streak of 20-win seasons to 11 straight and 15 in the last 16 seasons
DePauw entered the week as the nation's leader in three-point percentage, ranked second in rebound margin, third in scoring defense, fourth in scoring margin, fifth in both fewest turnovers per game and assist/turnover ratio.
Wittenberg is 14-11 after Tuesday's 82-66 quarterfinal win at Allegheny. Kim Replogle led Wittenberg with 19 points and nine rebounds. Sarah Watson paces the Tigers with 13.3 points and 6.3 rebounds per game, while Enri Small follows with 10.3 points. Lyndsey Clark is the team leader with 3.0 assists each contest, while five players have hit at least 23 three-pointers led by Watson's 26.
DePauw won the first meeting by a 90-53 score at Wittenberg on January 25. Alex Gasaway led all scorers with a career-high 28 points in just 19 minutes as she hit 13-of-15 field goals. Pearson hauled down a team-high 10 rebounds and Walker dished out six assists. Katelyn Haralamos led Wittenberg with 17 points, while Replogle grabbed five rebounds and Small totaled four steals. DePauw won the February 15 game in Greencastle by a 62-45 score as Ross and Gasaway each scored 13 and Aldrich had a double-double of 12 points and 13 rebounds. Small and Watson each scored 15 for Wittenberg.
Back