#4 DePauw Heads to NCAC Championship Game after Win over Wittenberg
February 24, 2012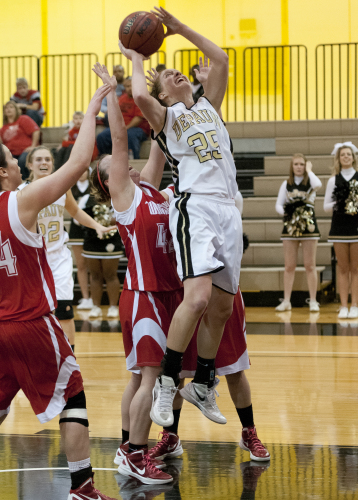 Greencastle, Ind. - Fourth-ranked DePauw went on a 13-3 run early in the second half capped by back-to-back threes from Ali Ross and kept the lead in double digits the rest of the way and captured a 69-52 win over Wittenberg in the second North Coast Athletic Conference Women's Basketball Tournament semifinal game.
With its 24th straight win, DePauw improved to 25-1 and hosts 20-7 Denison in Saturday's 7 p.m. championship game. The Big Red earlier advanced to their seventh title game in the last eight years with a 64-49 victory over Denison. Wittenberg ended its season at 14-12.
DePauw scored the game's first seven points and led by as many as 12 at 19-7 with 10:51 left in the first half. The Tigers still held a 20-10 advantage before Wittenberg rattled off 10 straight points to knot the score at 20-20 with 4:14 left. Emma Ondik responded with a three to break the tie and DePauw went to the break with a 30-22 lead.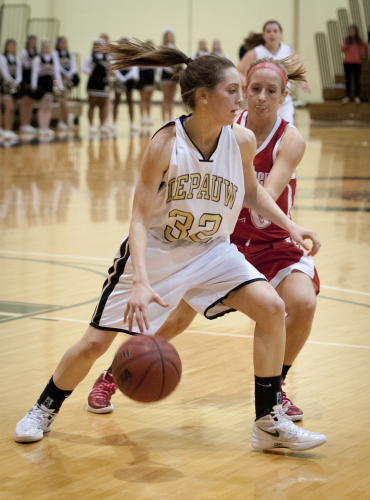 Wittenberg's Sarah Watscon scored the opening bucket of the second half, but Kathleen Molloy and Katie Aldrich each scored buckets and Ellie Pearson added a three-point play to give DePauw a 37-24 advantage.
Watson hit a free throw before Ross knocked down a three. Watson answered with a layup, but Ross came right back with another trey to push the lead to 43-27 with 15:46 remaining. DePauw led by as many as 19 and Wittenberg got no closer than 12 the rest of the way.
Ross paced DePauw with 16 points including 13 in the second half when she hit all three three-point attempts. Savannah Trees followed with 13 and Aldrich added a double-double of 10 points and a career-high equaling 13 rebounds. Ross and Ondik each dished out three assists.
Katelyn Haralamos led Wittenberg with 13 points and four steals, while Enri Small totaled 11 and Lyndsey Clark grabbed eight rebounds.
DePauw shot 46.3 percent for the game to Wittenberg's 37.0 percent, but in the second half DePauw hit 48.1 percent from the floor and Wittenberg shot just 32.4 percent and hit just 1-of-12 threes.
Back