#4 DePauw Women Host Denison Tonight in NCAC Tournament Title Clash
February 25, 2012
DEPAUW TOURNAMENT SITE (includes all live links for tonight) | DEPAUW GAME NOTES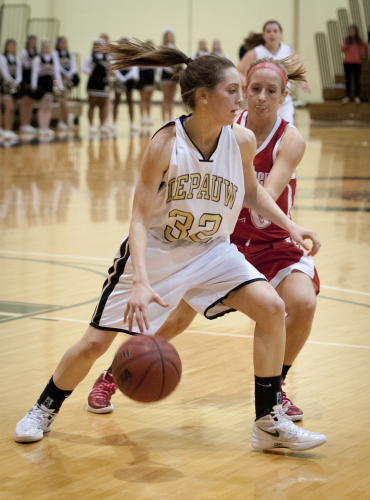 Greencastle, Ind. - It'll be a battle of the top two seeds in the North Coast Athletic Conference Tournament when DePauw hosts Denison in tonight's championship game. Tipoff in Neal Fieldhouse is set for 7 p.m. with the winner earning automatic qualification into the NCAA Division III Championship.
The cash purchase of tickets will begin at 6 p.m. this evening in the Neal Fieldhouse. Adult tickets are $10, while students from NCAC schools will be admitted at no charge by showing their institution ID. Students of non-NCAC schools and children under the age of 18 will be admitted for $5.
The Tigers, ranked fourth by D3hoops.com and in the USA Today/ESPN Division III Coaches' Poll, are 25-1 overall after last night's 69-52 win over fifth-seed Wittenberg. Ali Ross led DePauw with 16 points including 13 in the second half, while Savannah Trees added 13 and Katie Aldrich notched a double-double of 10 points and a career-high equaling 13 rebounds.
Aldrich leads the Tigers with 11.6 points per game, while Ross follows with 11.0 and leads the way with 47 three-pointers and 1.8 steals per outing. Ellie Pearson is the team leader with 7.9 rebounds, while Kate Walker leads with 2.9 assists.
The Tigers have won 24 straight after a November 19 defeat at Franklin by a 52-47 score for the seventh straight season in which DePauw has won at least 10 straight during a season. The 25-1 start is the best by DePauw since the 2005-06 squad was 29-1 and the 24-game streak is the second longest in school history. DePauw has extended its streak of 20-win seasons to 11 straight and 15 in the last 16 seasons.
DePauw entered last night's game as the nation's leader in three-point percentage, ranked second in rebound margin, third in scoring defense, fourth in scoring margin, fewest turnovers per game and assist/turnover ratio.
Denison is 20-7 after last night's 64-49 semifinal victory over third-seeded Kenyon as Nicole Coggins led the Big Red with 21 points followed by Serafina Nuzzo with 16 and Lydia Harlan with 12. Jane Windler and Annie-Rae Dura each grabbed eight rebounds. Nuzzo dished out five assists in the win.
Nuzzo leads Denison with 12.7 points and 3.0 assists per game followed by Windler with 10.5 points and a team-high 6.6 rebounds. Nuzzo is also the team leader with 41 three-pointers made.
The teams met on December 3 in Greencastle with DePauw posting a 58-45 win. Aldrich led DePauw with 15 points and Pearson grabbed 10 rebounds with Walker handing out six assists. Windler led Denison with 12 points and nine rebounds. DePauw led by as many as 26 in the second half.
On January 18 in Granville, DePauw shot 53.5 percent from the field to Denison's 29.2 percent in collecting a 64-37 win. Aldrich led all scorers with 17 points, while Pearson followed with 11 points and a team-high eight rebounds. Windler paced Denison with 15 points .
This is DePauw's first season of competition in the NCAC, but the Tigers advanced to eight of nine Southern Collegiate Athletic Conference championship games and posted a 6-2 record when playing for the title. The last time the Tigers hosted a conference tournament championship game was on February 28, 1998, when they defeated Manchester, 76-62, for the Indiana Collegiate Athletic Conference title.
Denison is aiming for its third straight NCAC title and seventh in the last eight years. Overall, Denison's seven tournament titles is tied with Wittenberg for the most in NCAC women's basketball history.
Back