#4 DePauw Wraps up NCAA Berth with NCAC Tourney Title
February 25, 2012
Greencastle, Ind. - Fourth-ranked DePauw held Denison scoreless over the final eight minutes of the first half and the first two of the second to stretch a three-point lead to 16 on the way to a 61-41 victory in the North Coast Athletic Conference Women's Basketball Tournament championship game.
DePauw improved to 26-1 with its 25th straight win and earned the conference's automatic qualification into the NCAA Division III Championship. The bracket will be announced on NCAA.com at 2:30 on Monday, February 27. The NCAA appearance will be DePauw's ninth straight and 13th in the last 17 years.
Denison took a quick 5-0 lead and still held a 10-5 advantage five minutes into the contest. DePauw's Savannah Trees knocked down a three-pointer and Alex Gasaway hit a bucket to event the score at 10-10 before Katie Aldrich added a layup and Kathleen Molloy nailed a three to cap a 10-0 run which put DePauw ahead 15-10 with 9:33 left in the half.
DePauw's lead was cut to 21-18 after Denison's Serafina Nuzzo scored with 7:28 remaining. The Big Red committed five turnovers and missed six shots as the Tigers closed the half with a 7-0 run and went to the intermission with a 28-18 lead.
Ali Ross opened the second half for DePauw with a bucket before Kate Walker made a pair of free throws and Aldrich scored on a layup to push the lead to 34-18 with 18:23 remaining.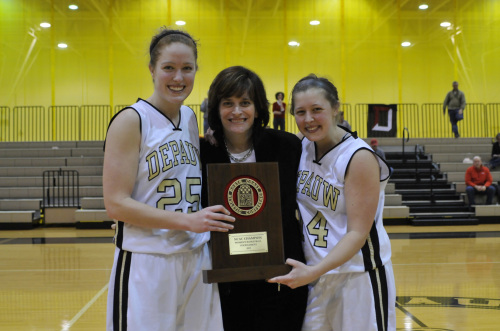 Denison used a 9-0 stretch to pull to within 38-29, but the Tigers scored the next eight to extend the margin to 17. The Big Red got no closer than 13 the rest of the way.
Aldrich, who was presented with the Nan Nichols Award as the Most Outstanding Performer of the tournament, posted her second straight double-double with 12 points and 11 rebounds. Ross also earned a spot on the all-tournament team and scored 10 points. Ellie Pearson added nine rebounds and led the way with three assists and two blocks.
Nuzzo paced Denison with 12 points, while Lydia Harlan added six rebound. Nuzzo and Nicole Coggins were named to the all-tournament team as well as Kenyon's Kayla Ernst and Wittenberg's Katelyn Haralamos.
DePauw shot 42.5 percent for the game including 45.5 percent in the first half, while Denison hit just 29.3 percent for the game. The Tigers hit 6-of-10 from three-point range to Wittenberg's 7-of-19, but DePauw outscored the Big Red, 21-0 from the free throw line.
Back