NY Times Spotlights Entrepreneurial Success of Angie Hicks '95
March 3, 2012
A New York Times story today on the success of Angie's List notes, "The company was born in 1995, when Angie Hicks, a newly minted graduate from DePauw University, went to work for Bill Oesterle in Columbus, Ohio. Mr. Oesterle, a venture capitalist at the time, wanted to replicate a newsletter service he knew about in Indianapolis that helped residents find plumbers and roofers. So he put Ms. Hicks to work at a card table in his garage."
The article by Ron Lieber cites the "particularly rare" business model of Angie's List, which charges users to access the data that's collected and requires persons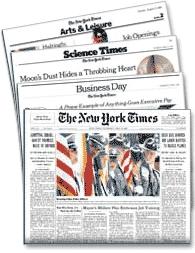 submitting reviews to identify themselves.
He writes, "Because this was 1995, nobody was yet shouting from the rooftops that information wanted to be free. 'Some of the choices we made early on were dictated by the world we lived in,' Ms. Hicks said. 'People paid for content.' When the business took off, they rechristened the company 'Angie's List' since she had assembled it and callers often asked Ms. Hicks to check 'her' list for recommendations. The company bought the service that had originally inspired Mr. Oesterle and moved the headquarters of Angie's List to Indiana in 1999."
The company recently went public and its "subscription renewal rates have grown in the last few years, even as it's tripled the number of cities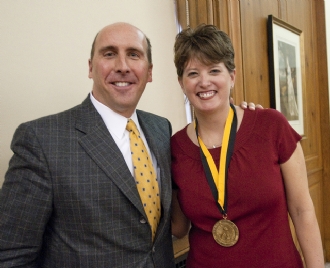 it covers and built sections of its site that may not have much content yet."
Read the full text -- headlined "At Angie's List, the Reviews Are Real (So Is Angie)" -- at the Times' website. (at right: DePauw President Brian W. Casey with Angie Hicks)
In October 2009, Angie Hicks -- who was an economics major and Management Fellow at DePauw and earned an M.B.A. from Harvard Business School -- was honored with DePauw's Robert C. McDermond Medal for Excellence in Entrepreneurship. Learn more about her in this previous story.
Source: New York Times
Back