DePauw Rallies from 5-run Deficit; Improves to 7-1
March 6, 2012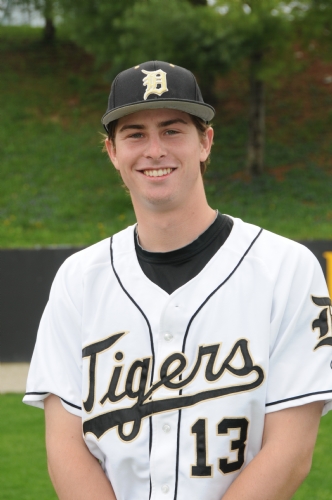 Greencastle, Ind. - With four homers in a three-inning stretch, DePauw rallied from an 8-3 deficit to defeat Mount St. Joseph, 11-8, on a warm and windy opening day at Walker Field. The Tigers improved to 7-1, while the Lions dropped to 1-3.
Mount St. Joseph took a 2-0 lead in the first on Kyle Ottaway's sacrifice fly and Craig Shanks' RBI single. DePauw matched that in the bottom half of the inning when Alex Wright ripped a two-run, two-out double which scored Rob McPike and Jason Cohen
The Lions added three unearned runs in the third on Ottaway's RBI fielder's choice and Cole Wendeln''s two-run single. DePauw countered with one in the bottom of the third when Cohen was hit by a pitch and Wright followed with a triple to trim the Lions' lead to 5-3.
Josh Denny led off the Mount St. Joseph sixth with a single and Justin Shelton walked. Ottaway's sacrifice bunt was followed by Shanks' two-run single. Shanks later scored on Wendeln's single.
DePauw's comeback started in the sixth as Wright singled and scored on Zach Starr's (pictured) two-run homer to left center. Brendon Pashia pinch hit to lead off the seventh and drilled the first pitch over the fence in left. Pinch-hitter Aaron Henry reached on an error before Zach Galyean was hit by a pitch. McPike then delivered a two-run double which hit the base of the fence in center and tied the game at 8-8.
Starr hit the first pitch he saw in the bottom of the eighth far over the fence and up the hill in center to give DePauw a 9-8 lead. Sam Swafford followed with a double before Galyean homered to left center.
Joe Wojda retired the side in the ninth for the win for the Tigers.
DePauw totaled 12 hits with Wright leading with three. Galyean, McPike, Starr and Swafford each had two. Wright and Starr each drove in three in the win.
The Lions totaled 14 hits with Wedeln leading with four. Ottaway, Shanks and Garrett Edwards each finished with two hits with Shanks and Wendeln driving in three apiece.
Alex Sroka picked up the win and improved to 1-0 after pitching a scoreless eighth, while Wojda notched his second save of the season. Chris Bruckman dropped to 1-1 with the loss.
The Tigers return to action on Saturday, March 10, when they travel to Manchester for a 1 p.m. doubleheader.
Back