DePauw Band Presents Sunday Afternoon Concert
March 7, 2012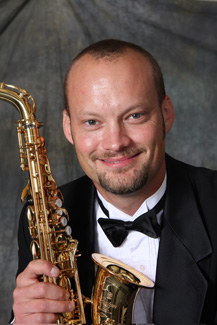 The DePauw University Band will present a concert on Sunday, March 11, with a program that will feature a variety musical of styles. The performance begins at 3 p.m. in Kresge Auditorium of the Judson and Joyce Green Center for the Performing Arts. It can also be heard live on DePauw's student radio station, WGRE (91.5 FM or via this online link).
Selections to be performed include Danza Final by Argentinian composer Alberto Ginastera, An American Elegy by Frank Ticheli, Recoil by Joseph Schwantner, the Concerto for Saxophone by Jascha Gurewich, with School of Music professor Scotty Stepp (pictured at top) as soloist, and English Dances by Malcolm Arnold.
"It is a pleasure to welcome Scotty Stepp as our soloist for this performance," states Craig Paré, conductor of the DePauw University Band. "He is an exceptional musician and a valued teaching colleague in the School of Music. In addition, we have him to thank for this arrangement of the Gurewich concerto. He commissioned this setting of the Concerto, that was originally for saxophone and piano, from Daniel Powers, principal violist and composer-in-residence with the Terre Haute Symphony Orchestra."
Dr. Paré adds, "Dan has crafted a marvelous arrangement, subtle in its color and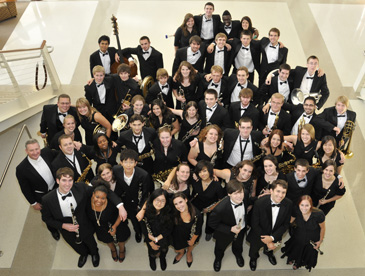 balance, that complements the virtuosic saxophone voice. This is a world premiere performance of this setting for solo saxophone and symphonic band, and I believe it is certain to become a staple of the saxophone repertoire."
It is requested that, if possible, those attending the concert bring one non-perishable food item to be collected at the door. All donations will go to the Putnam County Food Bank.
Founded in 1884, the DePauw University School of Music is the nation's sixth-oldest private institution for post-secondary music instruction and the longest-running in Indiana. Learn more here.
Back