DePauw Reaches Semifinals of National 'Ethics Bowl'
March 7, 2012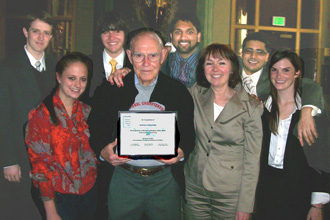 A team from DePauw University reached the semifinals at the national Ethics Bowl competition, which took place in Cincinnati last Thursday, March 1. DePauw students Ethan Brauer, Benjamin Hoffman, Kumar Amarnath, Mohammad Usman, Sara Scully (seen l-r in photo with coaches Elizabeth "Nicki" Hewell, Prindle Graduate Fellow; Robert Newton, professor emeritus of philosophy; and Marcia McKelligan, Blair Anderson and Martha Caroline Rieth Professor of Applied Ethics and professor of philosophy) competed against 30 other teams from across the nation.
The DePauw team first defeated a squad from the University of Alabama - Birminghmam by two points, then bested teams from the University of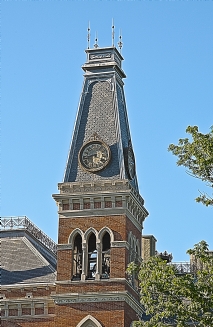 Michigan and the University of British Columbia in the second and third rounds, respectively. In the quarterfinals, DePauw again squared off against UA-B and advanced to the semifinal match, the highest DePauw has progressed in the national competitions.
DePauw came five points short in a semifinal match with a perennial winner, Clemson, which went on to the final match, losing to Whitman College.
It marked the seventh time in the last 8 years that DePauw has qualified for the national competition. Learn more in this previous story.
Back