Nine DePauw Student-Athletes Headed to NCAA Men's Swimming and Diving Championships
March 15, 2012
Greencastle, Ind. - Nine DePauw student-athletes have earned spots in the NCAA Division III Men's Swimming and Diving Championships and will compete at the IU Natatorium in Indianapolis, March 21-24.
The nine include: Alex Alfonso (Fr.; New Albany, Ohio/New Albany), Jack Burgeson (So.; Saint Louis Park, Minn./Saint Louis Park), Matt Gleason (So.; New Albany, Ohio/New Albany), Matt Haeske (So.; Western Springs, Ill./Lyons Township), Joe Hessburg (So.; Grosse Pointe Park, Mich./Grosse Pointe South), Casey Hooker (Fr.; Rensselaer, Ind./Rensselaer Central), Matt Kukurugya (Jr.; Crown Point, Ind./Crown Point), John Montgomery (Sr.; Northbrook, Ill./Glenbrook North) and Robby Spichiger (Jr.; Granville, Ohio/Granville).
DePauw's 400 medley relay (Hooker, Kukurugya, Gleason, Montgomery) and its 800 free relay (Montgomery, Hooker, Haeske, Spichiger) are each seeded seventh, while the 200 medley relay (Alfonso, Kukurugya, Gleason, Hessburg) is ninth. The Tigers' 400 free relay (Hooker, Alfonso, Burgeson, Montgomery) also qualified and has the 16th fastest time. DePauw will also compete in the 200 free relay.
Hooker qualified, individually, in the 500-yard freestyle in a time of 4:31.49 at the North Coast Athletic Conference Championships and is seeded 10th in the event. He'll also compete in the 200 and 1650 free.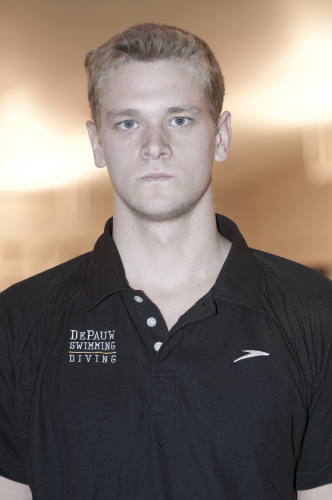 Additionally, three other Tigers will swim in individual events including Gleason (200 individual medley, 100 butterfly, 200 fly), Montgomery (50 free, 100 free, 200 free) and Kukurugya (100 breaststroke, 200 breast).
Montgomery (pictured left) is making his fourth appearance at the Championships and has been part of relays which have earned four all-America honors and three all-America honorable mention accolades. He competed on the Tigers' 200 free relay in 2010 which finished second in the nation.
Kukurugya (pictured above right), Hessburg and Burgeson are each appearing at the 2011 national meet for the second straight year. Kulurugya finished eighth in the 100 breast to earn all-America honors, while Hessburg and Burgeson joined Montgomery on last year's 200 free relay which earned all-America honorable mention distinction with a 14th-place finish.
DePauw enters as the 10th-ranked team in the latest Division III coaches' poll and finished 7-0 in dual meets for its second straight undefeated season. The Tigers have finished in the top 13 at three of the last four Division III Championships including a program-best 11th in 2008.
Listed below is a schedule of the events in which DePauw is competing. Prelims start at 10 a.m. each day with finals at 6 p.m.
Wednesday, March 21
500 freestyle (Casey Hooker)
200 individual medley (Matt Gleason)
50 Freestyle (John Montgomery)
200 Medley Relay
Thursday, March 22
200 Freestyle Relay
100 Butterfly (Matt Gleason)
200 Freestyle (Casey Hooker, John Montgomery)
400 Medley Relay
Friday, March 23
200 Butterfly (Matt Gleason)
100 Breaststroke (Matt Kukurugya)
800 Free Relay
Saturday, March 24
100 Freestyle (John Montgomery)
200 Breaststroke (Matt Kukurugya)
400 Freestyle Relay
1650 Freestyle (Casey Hooker)
Back