Third-ranked DePauw Finishes Fourth at Northern Kentucky Invitational
March 25, 2012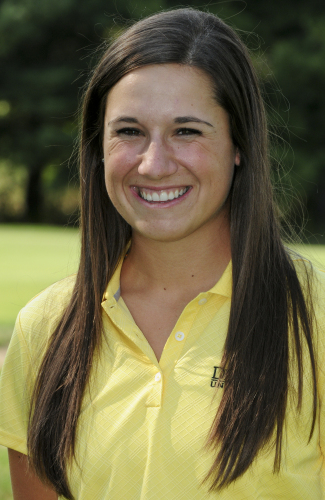 Perry Park, Ky. - Third-ranked DePauw shot a two-round 624 and finished fourth at the Northern Kentucky Invitational at the Perry Park Golf Course. Indianapolis won with a 597 followed by Ashland at 612 and Finday with a 622.
Kelly Gaughan (pictured) led the Tigers with a 153 including a 75 in today's second round to finish in a tie for 12th. Kelsey Smith shot a 155 and also fired a 75 today and finished in a tie for 19th.
Paige Gooch tied for 28th with a 158, while Abby Dickey and Taylor Beaty tied for 43rd with a 161. Samantha Stahler tied for 72nd with a 169 and Stephanie Aanenson was 115th with a 194.
DePauw returns to action on April 5 at the Big Four Classic at Crooked Stick in Carmel.
Northern Kentucky Invitational
Perry Park GC
Perry Park, Ky.
Dates: 3/24-25/2012
Par 72, 5819 yards

Fin.  Team                             Scores    Total    Par 
   1  Indianapolis, U. of............  300  297    597    +21
   2  Ashland University.............  308  304    612    +36
   3  Findlay, U. of.................  310  312    622    +46
   4  DePauw University..............  316  308    624    +48
   5  Washington-St. Louis...........  314  315    629    +53
   6  Southern Indiana, U. of........  322  312    634    +58
   7  Ferris State University........  318  317    635    +59
   8  Northwood University...........  320  318    638    +62
   9  Missouri-St. Louis.............  329  311    640    +64
  10  Lewis University...............  323  318    641    +65
  11  Northern Kentucky University...  326  325    651    +75
  12  Wittenberg.....................  322  337    659    +83
  13  Gannon University..............  336  327    663    +87
  14  Campbellsville University......  335  329    664    +88
  15  Ohio Dominican University......  333  332    665    +89
  16  Bellarmine University..........  349  332    681   +105
  17  Lake Superior State University.  348  338    686   +110
  18  Marian (Ind.) University.......  348  342    690   +114
t 19  Concord University.............  343  351    694   +118
t 19  Tiffin University..............  348  346    694   +118


Fin.  Player                Team                              Scores   Total    Par 
   1  Amy Thompson......... Indianapolis, U. of............   71   74    145     +1
t  2  Ashley Gubser........ Findlay, U. of.................   76   73    149     +5
t  2  Jenny Konop.......... Indianapolis, U. of............   76   73    149     +5
t  2  Erin Misheff......... Ashland University.............   77   72    149     +5
   5  Brianna Scheidler.... Indianapolis, U. of............   75   75    150     +6
   6  Jaclyn Schindler..... Indianapolis, U. of............   77   74    151     +7
t  7  Brooke Albers........ Findlay, U. of.................   75   77    152     +8
t  7  Amee Cox............. Northwood University...........   76   76    152     +8
t  7  Brittany Davidson.... Northwood University...........   80   72    152     +8
t  7  Leila Marquet........ Lewis University...............   75   77    152     +8
t  7  Taylor Merriss....... Southern Indiana, U. of........   78   74    152     +8
t 12  Hannah Buck.......... Washington-St. Louis...........   78   75    153     +9
t 12  Kelly Gaughan........ DePauw University..............   78   75    153     +9
t 12  Madison Musick....... Ashland University.............   77   76    153     +9
t 12  Darin Pinnick........ Indianapolis, U. of............   78   75    153     +9
t 16  Erin Fuchik.......... Ferris State University........   78   76    154    +10
t 16  Andrea Hibbert....... Washington-St. Louis...........   75   79    154    +10
t 16  Leah Miller.......... Marian (Ind.) University.......   76   78    154    +10
t 19  Bailey Hopper........ Missouri-St. Louis.............   80   75    155    +11
t 19  Holly James.......... Ashland University.............   75   80    155    +11
t 19  Olivia Lugar......... Washington-St. Louis...........   76   79    155    +11
t 19  Bhanisha Nagaindas... Gannon University..............   81   74    155    +11
t 19  Kelsey Smith......... DePauw University..............   80   75    155    +11
t 19  Chanice Young........ Indianapolis, U. of............   79   76    155    +11
t 25  Vanessa Phillips..... Lewis University...............   76   81    157    +13
t 25  Lauren Vogt.......... Findlay, U. of.................   77   80    157    +13
t 25  Katie White.......... Campbellsville University......   78   79    157    +13
t 28  Paige Gooch.......... DePauw University..............   76   82    158    +14
t 28  Megan Henry.......... Lake Superior State University.   79   79    158    +14
t 28  Deborah Landis....... Tiffin University..............   81   77    158    +14
t 28  Audrey Mayer......... Southern Indiana, U. of........   81   77    158    +14
t 28  Abby Tepe............ Ashland University.............   81   77    158    +14
t 28  Nicole Trivisonno.... Ashland University.............   79   79    158    +14
t 34  Shweta Galande....... Missouri-St. Louis.............   81   78    159    +15
t 34  Bryce Hetchler....... Ferris State University........   80   79    159    +15
t 34  Justine Knox......... Concord University.............   77   82    159    +15
t 37  Kim Brown............ Northwood University...........   78   82    160    +16
t 37  Jacqueline DeBoer.... Ferris State University........   79   81    160    +16
t 37  Ashley Swartz........ Ohio Dominican University......   80   80    160    +16
t 37  Nicole Tucker........ Lewis University...............   84   76    160    +16
t 37  Daniela Viotti....... Missouri-St. Louis.............   82   78    160    +16
t 37  Taylor Wogenstahl.... Northern Kentucky University...   83   77    160    +16
t 43  Taylor Beaty......... DePauw University..............   82   79    161    +17
t 43  Anne Busam........... Wittenberg.....................   80   81    161    +17
t 43  Abby Dickey.......... DePauw University..............   82   79    161    +17
t 46  Lindsey Carr......... Southern Indiana, U. of........   82   80    162    +18
t 46  Marina Erice......... Concord University.............   81   81    162    +18
t 46  Lauren Lenkowski..... Northwood University...........   80   82    162    +18
t 46  Regan Pittard........ Indianapolis, U. of............   79   83    162    +18
t 46  Emily Rohdy.......... Ferris State University........   81   81    162    +18
t 51  Rachel Brown......... Northern Kentucky University...   79   85    164    +20
t 51  Elizabeth Fernandes.. Northern Kentucky University...   81   83    164    +20
t 51  Trelyn Gerlinger..... Findlay, U. of.................   82   82    164    +20
t 51  Chelsea Kellogg...... Missouri-St. Louis.............   82   82    164    +20
t 51  Andrea Ribelin....... Southern Indiana, U. of........   81   83    164    +20
t 56  Amanda Constanzo..... Ohio Dominican University......   82   83    165    +21
t 56  Elizabeth Nebraski... Northern Kentucky University...   83   82    165    +21
t 56  Michele Schambs...... Findlay, U. of.................   83   82    165    +21
t 56  Rachel Steiner....... Wittenberg.....................   79   86    165    +21
t 60  Griffin Glasscock.... Southern Indiana, U. of........   85   81    166    +22
t 60  Stephanie Orsburn.... Southern Indiana, U. of........   85   81    166    +22
t 62  Leah Pehlke.......... Bellarmine University..........   87   80    167    +23
t 62  Carolyn Wong......... Wittenberg.....................   82   85    167    +23
t 64  Blaize Baumgartner... Ferris State University........   86   82    168    +24
t 64  McLane Farr.......... Campbellsville University......   86   82    168    +24
t 64  Saskia Merz.......... Gannon University..............   83   85    168    +24
t 64  Danielle Misencik.... Ohio Dominican University......   84   84    168    +24
t 64  Samantha Pelc........ Missouri-St. Louis.............   88   80    168    +24
t 64  Amanda Teodorsson.... Gannon University..............   88   80    168    +24
t 64  Nicole Waers......... Wittenberg.....................   81   87    168    +24
t 64  Heidi Zimmerman...... Bellarmine University..........   85   83    168    +24
t 72  Breezy Bernth........ Ferris State University........   87   82    169    +25
t 72  Lindsay Kellerman.... Missouri-St. Louis.............   86   83    169    +25
t 72  Sam Stahler.......... DePauw University..............   87   82    169    +25
t 72  Caitlyn Wilkerson.... Campbellsville University......   87   82    169    +25
t 76  Nicole Bouwens....... Lake Superior State University.   87   83    170    +26
t 76  Allyson Chee......... Washington-St. Louis...........   88   82    170    +26
t 76  Meleigha Pollock..... Campbellsville University......   84   86    170    +26
t 76  Maggie Schad......... Bellarmine University..........   90   80    170    +26
  80  Deanna Mychalishyn... Wittenberg.....................   86   85    171    +27
t 81  Breanne Fredette..... Lewis University...............   88   84    172    +28
t 81  Rhiannon Ray......... Gannon University..............   86   86    172    +28
t 81  Sarah Vonderembse.... Ohio Dominican University......   87   85    172    +28
t 84  Katie Homa........... Washington-St. Louis...........   85   88    173    +29
t 84  Kelly Nickerson...... Gannon University..............   85   88    173    +29
t 84  Katie-Scarlett Skinn. Northern Kentucky University...   90   83    173    +29
t 84  Emily Vergin......... Northwood University...........   84   89    173    +29
  88  Jaycee Garrow........ Tiffin University..............   87   87    174    +30
t 89  Mary Eighmy.......... Gannon University..............   87   88    175    +31
t 89  Abby Martin.......... Tiffin University..............   86   89    175    +31
t 89  Liz Zimmer........... Lewis University...............   89   86    175    +31
t 92  Samantha Gubbins..... Lake Superior State University.   88   88    176    +32
t 92  Molly Knight......... Marian (Ind.) University.......   89   87    176    +32
t 94  Brianna Blumenherst.. Northwood University...........   89   88    177    +33
t 94  Kayla Kincer......... Campbellsville University......   90   87    177    +33
t 94  Shelby Myers......... Concord University.............   89   88    177    +33
t 97  Allison Dooley....... Bellarmine University..........   87   91    178    +34
t 97  Carly Shapiro........ Lewis University...............   92   86    178    +34
t 99  Kelsey Auditore...... Ohio Dominican University......   91   88    179    +35
t 99  Alex Vanwanzeele..... Southern Indiana, U. of........   92   87    179    +35
t101  Jordan Barker........ Marian (Ind.) University.......   95   85    180    +36
t101  Katie Kirschner...... Marian (Ind.) University.......   92   88    180    +36
t101  Jennifer Rechtin..... Bellarmine University..........   91   89    180    +36
t104  Katie Dennis......... Marian (Ind.) University.......   92   90    182    +38
t104  Amanda Garcia........ Lake Superior State University.   94   88    182    +38
t104  Tara Lecher.......... Marian (Ind.) University.......   91   91    182    +38
 107  Dayna Drewes......... Lake Superior State University.   94   89    183    +39
 108  Carlyn Babinec....... Gannon University..............   90   94    184    +40
 109  Kristen Hicks........ Marian (Ind.) University.......   99   87    186    +42
t110  Ashley McQueen....... Marian (Ind.) University.......   96   91    187    +43
t110  Allison Soviak....... Tiffin University..............   94   93    187    +43
t112  Bethany Huber........ Southern Indiana, U. of........   99   89    188    +44
t112  Sarah Miller......... Washington-St. Louis...........   96   92    188    +44
 114  Brooke Reed.......... Marian (Ind.) University.......   93   99    192    +48
 115  Stephanie Aanenson... DePauw University..............   99   95    194    +50
 116  Heather McMillen..... Concord University.............   96  100    196    +52
 117  Joy Carter........... Campbellsville University......   96  101    197    +53
 118  Jordan Ahmay......... Marian (Ind.) University.......   99  105    204    +60
 119  Lauren Harris........ Tiffin University..............  110  111    221    +77
      Danielle Coffman..... Lewis University...............   89  dnc    DNF       


Back