DePauw Wins National Undergraduate Bioethics Competition
March 26, 2012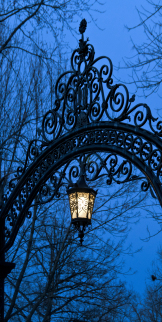 A team from DePauw University emerged the winner of the Bioethics Bowl debate tournament, which took place at the National Undergraduate Bioethics Conference over the weekend (March 23-24) at the University of Denver. The DePauw squad -- composed of Bethany Buis '12, Bryan Edwards '12, Mohammad Usman '12, Ben Hoffman '13, and Cole Rodman '14 -- won all six of its matches.
DePauw's was one of 10 teams which competed in the structured, double elimination tournament.
On Friday, the DePauw team -- coached by Marcia McKelligan, Blair Anderson and Martha Caroline Rieth Professor of Applied Ethics and professor of philosophy; and Ted Bitner, assistanr professor of psychology -- defeated, in succession, the University of Miami, Georgetown University (with two of its coaches -- Paddy McShane '07 and Lauren Lefebvre '09 -- DePauw alums and former Ethics Bowl team members), and the University of Central Florida and ended the day as one of only two undefeated teams. On day two, the DePauw students topped the only other undefeated squad, the University of North Carolina - Chapel Hill, and again defeated the University of Miami, leading to a final match-up with Georgetown, and DePauw again prevailed to take the championship.
Additionally, team member Ben Hoffman's paper (on "The Ethics of Using Neuroenhancing Drugs on Children") was selected for presentation at the conference. He won the award for the "most inspired student presentation."
The National Undergraduate Bioethics Conference, which is presented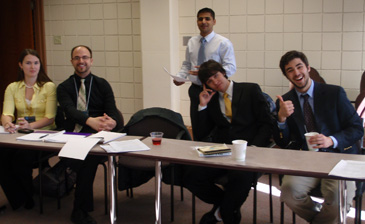 by the American Society for Bioethics and Humanities (ASBH), focuses on pressing bioethical issues and challenges both students and attendees to shape the way they think about technological advances. (photo, l-r: Buis, Edwards, Usman, Hoffman and Rodman)
It marks the second national title in as many weekends for DePauw students. Two members of the DePauw University debate team -- sophomore Ronnie Kennedy and junior Jimmy Kirkpatrick -- won the national championship at the Pi Kappa Delta National Comprehensive Tournament in Overland Park, Kansas, March 15-18. Learn more here.
Back