#18 Tigers Improve to 21-3 with Ninth Straight Win; McPike Breaks DePauw RBI Mark
March 31, 2012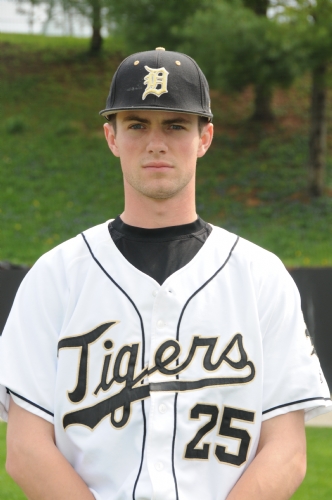 Granville, Ohio - DePauw, ranked 18th in the latest Division III Coaches' Poll and 21st by D3baseball.com, extended its win streak to nine following a North Coast Athletic Conference doubleheader sweep at Denison.
The Tigers won the opener, 2-1, and took the nightcap, 14-4. DePauw has now won 13 of its last 14 and improved to 21-3 overall and 6-0 in the NCAC West, while the Big Red dropped to 5-16 overall and 0-2 in the NCAC.
In game one, Denison took a 1-0 lead as Charlie Apfelbach led off with a single and scored on Andrew Mahle's double. However, DePauw starter Elliott Ross retired 21 of the next 22 batters.
DePauw scored its two runs in the third as Pat Lyons singled and moved to second on Zach Galyean's base hit. After Rob McPike (pictured) was hit by a pitch, Jason Cohen drove in two with a single through the right side.
Six different Tigers collected one hit apiece, while three different Big Red batters had one hit each. Ross improved to 4-1 and struck out six with no walks, while Tyler Vaske dropped to 0-3.
In the nightcap, Denison's first seven batters reached base and the Big Red grabbed a 4-0 lead. Apfelbach walked and moved to second on Mahle's single. Ryan Mulligan and Kyle Clemmenson then delivered RBI singles. Clemmenson scored on a wild pitch before Evan Nicholson came home on Jeremy Tirado's fielder's choice.
DePauw trimmed the lead to 4-3 in the third as Lyons singled and moved to second on a wild pitch before J.B. McCallum walked and Galyean singled. McPike reached on a fielder's choice which scored Lyons and Cohen tripled to right center scoring McCallum and McPike.
Lyons led off the fifth with a single and stole second before Galyrean moved him to third with a base hit. McPike reached on a fielder's choice which scored Lyons and then scored after Cohen reached on an error.
McPike's double in the seventh scored Galyean and McPike crossed home on Alex Wright's single. Wright scored when Brendon Pashia tripled making it 8-4.
DePauw loaded the bases in the eighth and Cohen doubled home a pair before Wright delivered an RBI single. Cohen scored on a wild pitch and Wright came home when Pashia reached on an error. Alex Berlyn's single scored Pashia.
Alex Sroka struck out the side in the bottom of the eighth which ended the game due to the 10-run rule.
DePauw totaled 13 hits led by Galyean with three and two apiece from Cohen, Wright, Pashia and Lyons. Cohen drove in four in the win. McPike drove in three and raised his career RBI total to 122 to break the DePauw record of 120 held by Matt Kleine (2005-08).
Denison finished with 11 hits as Danny Kraus led with three and Mulligan and Nicholson each had two.
Andy Manson improved to 5-1, while Connor Murphy dropped to 1-3.
The teams wrap up their series on Sunday with a 1 p.m. doubleheader.
Back