Sophomore Learning Valuable Lessons About Coaching Basketball
April 2, 2012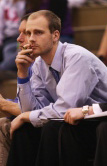 As a student assistant for DePauw University's men's basketball team, sophomore Tyler Notch "is learning everything it takes to coach at the collegiate level," notes a story in the Wyoming Tribune-Eagle. The article details how Notch played basketball in high school until an injury ended his playing career and he turned his attention toward coaching. (photo by Emily Green/The DePauw)

"I was looking all over the place and DePauw found me," Notch tells the newspaper. "In Indiana basketball is king. There's tons of colleges out there and everything like that. I went and toured the campus and just fell in love with it."

Alex Riley writes, "DePauw, an NCAA Division III program, has given Notch the opportunity he has longed for. The sophomore student does just about everything the full-time coaches do. He scouts opponents, reviews footage of potential recruits, helps run practices and even offers advice to the coaching staff on strategies during games ... DePauw assistant coach Brian Oilar met Notch on his visit to the campus and discussed the role he might play on the team. Oilar has heard students say they want to be involved with the basketball program before but few have been able to keep pace with the demands."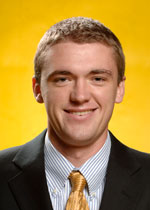 Oilar, a 2008 DePauw graduate, says, "I never could have hoped for someone who has helped us out as much as he has and has been as good a friend as he has to me. I never would've thought on that day when I met with him that we were going to get all that."

Riley reports, "The regular season is over and the school year is drawing to a close, meaning Notch has some choices to make this summer. He is looking into the possibility of doing an internship with the Indianapolis Colts or helping out at Butler's basketball camps. Butler coach Brad Stevens is a DePauw graduate ['99]. He could also be on the recruiting trail with Oilar talking with potential players during the summer. No matter which path he chooses, Notch still has his focus set on the ultimate dream, and he'll do whatever it takes to get there."
Access the complete piece at the Tribune-Eagle's website.
Back