Tusha Mittal '06 Honored for Her Reporting
March 9, 2012

Tusha Mittal, a reporter in the Kolkata (Calcutta) news bureau of Tehelka, a weekly news magazine in India, is the 2012 recipient of the Chameli Devi Jain Award for "Outstanding Woman Mediaperson." The Hindu reports that Mittal, a 2006 graduate of DePauw University, was recognized for her "sterling reportage of life in the raw at the margins in deep interior Bengal, Orissa and Chhattisgarh, in areas affected by bloody civil strife, Naxal and vigilante violence and dangerous living along the Bangladesh border, where cattle smuggling is rife."
The newspaper adds, "The award, instituted by the Media Foundation, will be presented on March 13 in New Delhi. This will be followed by a release of a book of essays by previous Chameli laureates, titled Making News, Breaking News, Her Way published by Tranquebar and a panel discussion on 'What Has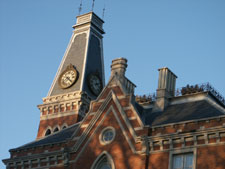 Changed for or Because of Women in the Media'."
Mittal double majored in communication and English (writing) as an undergraduate. At Tehelka since March 2008, she has written extensively on land rights and displacement struggles.
Access the item here.
Back