DePauw Finishes Third at Big Four Classic
April 5, 2012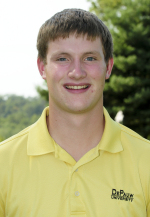 Carmel, Ind. - DePauw shot a 333 and finished third at the Big Four Classic at Crooked Stick. Division I Butler won with a 311, while Hanover was second at 328 and Wabash fourth with a 348.
Graham Singer (pictured) paced DePauw with an 81 which was good for fourth place. Andy Hill tied for 10th with an 83 followed by Charlie Castino in a tie for 13th with an 84 and Carter Gaskill in 15th with an 85. Matt Coffin shot an 88 and was tied for 20th, while Nathan Smith finished 23rd with a 94. Butler's Alex Walker and Andrew Wegeng each shot 75 to lead the individual field.
DePauw competes in the Illinois Wesleyan Invitational, April 6-7.
Big Four Classic
Crooked Stick GC
Carmel, Ind.
Dates: 4/5/2012
Par 72, 7159 yards  (4 teams, 24 players)

Butler University............. 311   +23      1st
Alex Walker...................  75    +3   t- 1st
Andrew Wegeng.................  75    +3   t- 1st
Andrew Eiler..................  79    +7      3rd
Colin Reenan..................  82   +10   t- 5th
Jordan Mack...................  83   +11   t-10th
Matt Vitale#..................  83   +11   t-10th

Hanover College............... 328   +40      2nd
Robert Bader..................  82   +10   t- 5th
Patric Geary..................  82   +10   t- 5th
Vikram Ramjee.................  82   +10   t- 5th
Terry Smith...................  82   +10   t- 5th
Matt Ehman....................  84   +12   t-13th
Marcus El#....................  86   +14   t-16th

DePauw University............. 333   +45      3rd
Graham Singer.................  81    +9      4th
Andy Hill.....................  83   +11   t-10th
Charlie Castino...............  84   +12   t-13th
Carter Gaskill................  85   +13     15th
Matt Coffin...................  88   +16   t-20th
Nathan Smith#.................  94   +22     23rd

Wabash College................ 348   +60      4th
Scotty Johansen Jr............  86   +14   t-16th
Logan Burdick.................  87   +15   t-18th
Jackson Stevens...............  87   +15   t-18th
Seth Hensley..................  88   +16   t-20th
Scott Morrison................  89   +17     22nd
Nathan Klopfenstein#..........  98   +26     24th

# Indicates individual player

Back