Two DePauw Students Awarded Albert Lund '48 Scholarships for 2012-13
April 10, 2012
Two DePauw University students -- junior Brent Hume and sophomore John Colton -- are the recipients of Albert L. Lund '48 Scholarships for the 2012-13 academic year. The awards are for $6,000 each.
Lund, who was a member of Phi Delta Theta at DePauw, established the scholarship in 1999 to reward members of his fraternity for their dedication to academics and to recognize their involvement in campus and community activities. A total of 40 Lund Scholarships have now been awarded.
Albert Lund passed away in 2003. His son and daughter, Larry Lund '77 and Lindsey Lund Peterik '74, presented the awards at the chapter's annual awards banquet tonight at The Inn at DePauw. (photo: current Lund Scholar Mitch Strobl '12 wearing Albert Lund's "senior cords"; Glenn Davis '77; Brent Hume '13 and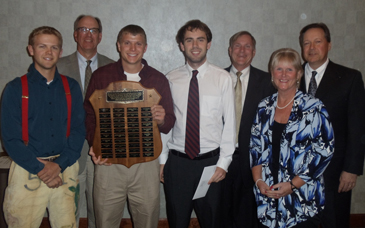 John Colton '14; A. Lawrence Lund '77; Lindsey Lund Peterik'74; and Scott Shewalter '77).
"My father was able to attend DePauw because of a Rector Scholarship, and he believed it was essential that young students have access to the opportunity of a higher education opportunity such as the one DePauw has provided for 175 years," says Larry Lund. "My dad considered his time at DePauw and as a member of Phi Delt's Indiana Zeta to be key to his development and success. Although he is gone, his gift continues to inform and enhance the life of this chapter and this campus. It's an annual highlight to honor these young scholars."
Back